Pencil Sketch of a Pet
This brief tutorial by David Kelly explains how AKVIS Sketch was used in conjunction with Corel Paint Shop Pro to create a realistic looking color sketch from an existing photograph, with a blurred background.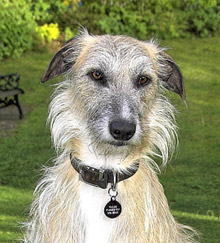 Original Image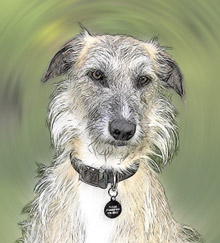 Result
The author writes: "Although this example was created with AKVIS Sketch plug-in used in conjunction with Corel Paint Shop Pro 9, similar results can be obtained with other compatible image editing software packages. Download the unrestricted AKVIS Sketch ten-day free trial and try Sketch out for yourself. You will not be disappointed!"
Note: AKVIS Sketch allows achieving such a result without a photo editor. Using the settings of the Background tab you can blur some parts of the image and imitate a blend of the original photo and the drawing. You can work with the standalone edition as well as with the plugin version.
Let's follow the steps David described:
Step 1.

I opened the original photo in PSP9.

Original Photograph

Step 2.

Then I used PSP9's freehand "point-to-point" selection tool to select the dog.

Step 3.

Saved the selection to an Alpha channel; Selections - Load/Save Selection - Save Selection to Alpha Channel - name then save. Saving a selection makes it easy to recall without having to redraw the selection if a mistake is made.

Step 4.

Named and saved image as a Paint Shop Pro image file.

Step 5.

Inverted the selection, Ctrl+Shift+I. This transferred the selection from the dog to the background area enabling it to be edited separately from the foreground image, i.e. the dog. Next a radial blur effect was applied to the background.

Selection

Step 6.

Selected Adjust -> Blur -> Radial Blur, then entered these settings:

- Blur type = Spin.
- Blur strength (%) = 21, plus Elliptical selected.
- Center: Horizontal offset (%) = 0, Vertical offset (%) = 0, Protect center (%) = 19.

Named and saved the radial blur settings as a preset then clicked OK to apply the radial blur effect to the image's background and to return to PSP9's workspace.

Step 7.

Removed the selection, Ctrl+D.

Blurring

Step 8.

Called AKVIS Sketch from within PSP9: Effects -> Plugins -> AKVIS -> Sketch.

Step 9.

Left clicked Sketch's Run button to initially apply its default settings.

Step 10.

Adjusted each of Sketch's Effects and Strokes field's slider controls individually.

These adjustments produced the final parameter values seen below:

- Watercolor = 10,
- Charcoal = 2,
- Coloration = 100,
- Angle = 45,
- Stroke Thickness = 6,
- Min Length/Max Length = 3/10,
- Midtones Intensity = 1,
- Midtones Hatching = 4.

Step 11.

Once satisfied with the final result left clicked Sketch's Apply button . This closed Sketch to reveal PSP9's workspace containing the finished color sketch image, which can be seen below.

Color Sketch

Step 12.

Named and saved the completed color sketch as a TIFF image file.
Sketch v. 27.0 - Free 10-day Trial