Friends in a Cafe: Sketch&Blur
Have you ever experienced such a good moment in your life that you were ready to exclaim "Oh stay! You are so beautiful!". Unfortunately nobody can stop or halt the time, but we can imagine how it would look and imitate it in a photo.
Here is a photo of two good friends in a cafe. We will use the standalone version of AKVIS Sketch to stop the moment.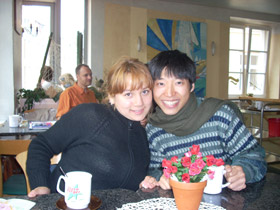 Original photo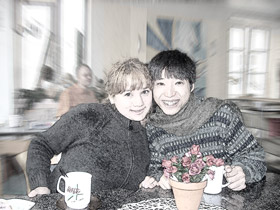 Pencil drawing
Step 1.

Open the standalone version of AKVIS Sketch.

Step 2.

Open the photo you want to convert to a drawing (the button ).

Once opened, the image will be processed automatically and the result will appear in the Quick Preview Window in the Before tab.

Step 3.

The features of the faces are not well-defined, so we adjust the parameters in the Sketch tab as shown below:

The result appears in the Preview window.

Step 4.

The sample looks fine, so we can apply the settings to the whole image. Click on to process the photo. The result will be shown in the After tab.

Step 5.

Wonderful moments should also be rich in colors. Add the original colors by increasing the parameter Coloration. That is the only parameter that has an instant influence on the image, it does not require clicking on .

Step 6.

Switch to the Background tab. We are going to add an effect that imitates a motion of the background, as if time stopped for the friends while everything around them continues moving further.

Select the Sketch&Blur mode from the drop-down menu. To create this effect we use the Radial Blur Method.

Use the pencils and to outline the areas that should be blurred and the areas that will stay unchanged.

Step 7.

Start the processing with a click on . Here is the resulting sketch:

Hint: Using the Sketch & Blur mode proves especially useful on photos that have too many small or irrelevant details on the background that divert attention.

In this way you can stop time in any photo.

Do not forget to save the image by clicking on .
Sketch v. 27.0 - Free 10-day Trial