Program Preferences
The button

opens the Preferences dialog box. It looks like this: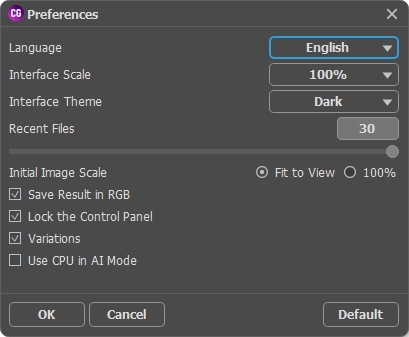 Language. Change the program language by selecting another from the drop-down list.
Interface Scale. Choose the size of the interface elements. When it is set to Auto, the program workspace will automatically scale to fit the screen resolution.
Interface Theme. Select the style of the program interface: Light or Dark.
Initial Image Scale. This option defines the way the image is scaled in the Image Window.

- Fit to View: the image is completely visible in the window;
- 100%: the image doesn't scale (generally, only a part of the image is visible).

Save result in RGB (only in the standalone version). By default, the processing result is always saved in RGB, regardless of the source image. If the original image was in CMYK or Lab and you want to save the result in those modes, deactivate this parameter (if the result is saved in CMYK mode, it might appear differently than in the program's image window). A result in Grayscale will always be saved in RGB.
Recent Files (only in the standalone version). The number of recent documents. The list of the recent files, sorted by time, become visible by right mouse clicking on . Maximum: 30 files.
Lock the Control Panel check-box. It disables the possibility to hide/show the top panel. If the check-box is selected the panel is always visible. Uncheck the option to unlock the panel, and you will be able to hide/show it by clicking on the small triangle button (in the middle of the panel). The minimized panel will be shown when moving the cursor over it.
Use GPU. The check-box lets you turn on GPU acceleration and significantly speed up the colorization process. If your computer does not support GPU acceleration the check-box will be disabled.
Variations. The check-box shows/hides a section with colorization results.
To save changes made in the Preferences window press OK.
If you need, click on the button Default to come back the default settings.
Coloriage v. 13.1 - Free 10-day Trial