Colorizing a B&W Family Photo
Old photographs pass down memories generation to generation. Looking at them is like time machine making us feel nostalgic. Using AKVIS Coloriage, you can easily add color to your memories!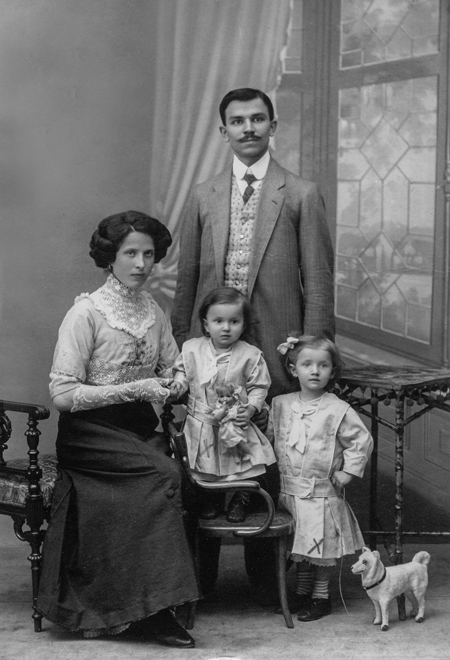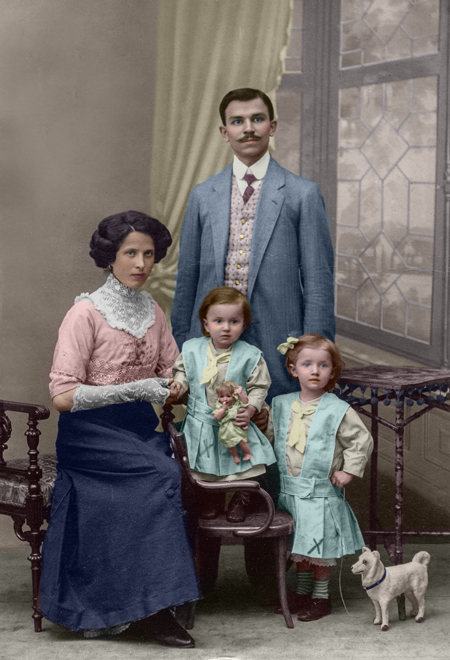 Colorized B&W Photo
(open a larger version)
Follow these steps:
Step 1.

Start AKVIS Coloriage. You can either use the standalone or plugin version that is compatible with most popular image editors (AliveColors, Photoshop, Corel PaintShop Pro, etc.).

Load the image using the button.

Program Window of AKVIS Coloriage

Step 2.

Use the Pencil tool to draw color strokes around the boundaries of objects. All elements of the image should be marked with a specific color.

You can select the colors using 3 tabs at the bottom (Color, Swatches, Multicolor) or using the Color Library. Choose muted colors as they look more natural.

The last used colors are shown in the Color History.

Settings in AKVIS Coloriage

The accuracy of the result depends on the accuracy of the strokes. Draw an outline within all objects; try not to cross the boundaries. If needed, adjust the size of the Pencil by right-clicking the image. Hold Shift to keep the lines straight.

To be on the safe side, we recommend you to save the strokes to a special .strokes file by clicking on . Thereby, you'll be able to continue editing at any time.

Marking Color Stokes

Pay special attention to the skin colorizing. It is very important to choose the right shade. You can choose a suitable color in the Color Library (People -> Skin category).

Color Library

For more natural result, choose different shades for the overall skin tone, cheeks, lips, eyebrow, and eyes. When marking the eyes, don't miss the white of the eye.

Face Coloring

Step 3.

Press to process the image.

Step 4.

Experiment with colors and shades. Save different color variations by clicking on in the bottom section. You can easily switch between the variations and select the one you like the most.

Variations of Colorization

Step 5.

Press to save the final image.
Coloriage v. 14.0 - Free 10-day Trial