Adobe Bridge Tips
Adobe Bridge is an efficient standalone file manager that comes bundled with Adobe Photoshop CS2 and replaces the File Browser of the previous versions.
The following tips will help you to speed up your work in Adobe Bridge.
Tip 1. Add to Favourites
You can accelerate access to frequently used folders using the Add to Favorites command of Adobe Bridge. Find the folder you need and click on it with the right mouse button. In the emerging menu select Add to Favorites.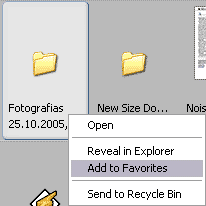 The folder will appear in the Favorites tab in the left part of the Adobe Bridge window.
To remove the folder right-click it again and select Remove from Favorites.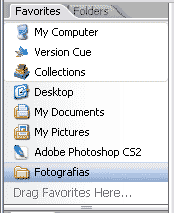 Tip 2. Increase Font Size for Metadata.
If the font size of the metadata is not big enough, you can change it using the command Increase Font Size.

In the next step you can increase it more or decrease (the command Decrease Font Size).