Nature Effects: Frost
This effect allows you to adorn an image with an openwork of frost crystals. In nature frost appears on long thin objects during freezing weather. This gives an environment a fantastic look, sometimes almost surreal. Now you can add this beauty to your digital photos easily.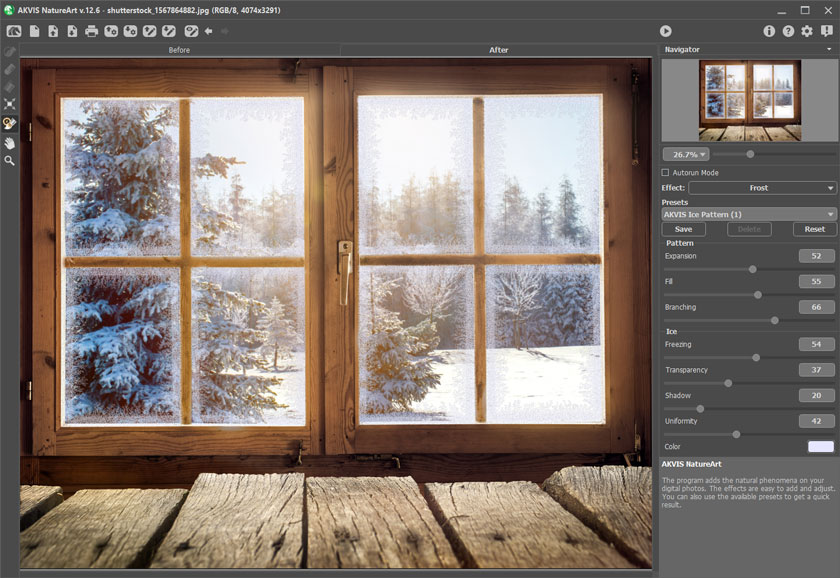 Frost on Eyelashes
The effect will be applied only in a selected area! Use the follow tools to make a selection:
Selection Brush . This tool is used to highlight areas to which an effect will be applied. You can change the tool's size in a pop-up window which opens with a right mouse click in the image window.

To get a straight line, draw a line while holding down Shift.

Eraser . Use this tool to erase selection areas. You can change the tool's size in a pop-up window.
Selection Bucket . The tool fills an area outlined with the Selection Brush (helpful for selecting large areas).

If the area was not circled by , the entire image will be selected by clicking with .

Hint: You can use Selection Bucket in "eraser mode" to erase all selections at the image. Just click the left mouse button while pressing Ctrl.
The effect's parameters can be adjusted in the Settings Panel.
Parameters under Pattern affect how the frost will be formed:
Expansion (0-100). The parameter influences how far the effect extends beyond the selection.

Expansion = 20

Expansion = 70

Fill (0-100). The parameter affects the pattern's density within a selection. The higher the value of this parameter the more dense the frost crystals are.

Fill = 15

Fill = 90

Branching (1-100). The parameter affects the intensity of branching along the selection. As this parameter's value is increased the complexity, number, and length of branches increases.

Branching = 5

Branching = 88
Parameters under Ice do not affect the shape of the pattern and are only responsible for the ice's appearance:
Freezing (0-100). This parameter sets the freezing intensity of ice crystals. At lower values the edges of the frost are thin and soft, while at the maximum value the ice becomes more homogeneous, dense, and solid.

Freezing = 0

Freezing = 100

Transparency (0-100). The parameter affects the opacity of the ice in relation to the background color. At the minimum value the ice is completely opaque; at higher values the background begins to be visible through the ice; and at 100% it becomes a transparent layer of ice.

Transparency = 0

Transparency = 75

Shadow (0-100). The parameter adds a shadow to the ice pattern edges increasing the depth and clarity of the pattern. At a value of 0 there is no shadow. The larger the value, the more visible outlines are.

Shadow = 0

Shadow = 100

Uniformity (0-100). The parameter affects the range of shades of the color of the ice. The higher the value, the more uniform the color becomes, and the fewer shades are used.

Uniformity = 10

Uniformity = 90

Color can be changed by clicking on the color plate and choosing a new color from the Select Color dialog.

White

Lavender
NatureArt v. 12.1 - Free 10-day Trial