Nature Effects: Ice
You can use the Ice effect to cover any surface in ice. It lets you freeze a lake or a pond even in summer, decorate your Christmas pictures, create ice sculptures.
Note: The Ice effect is available for the Home Deluxe and Business licenses. In Home version, it can be applied with a watermark. Compare the licenses.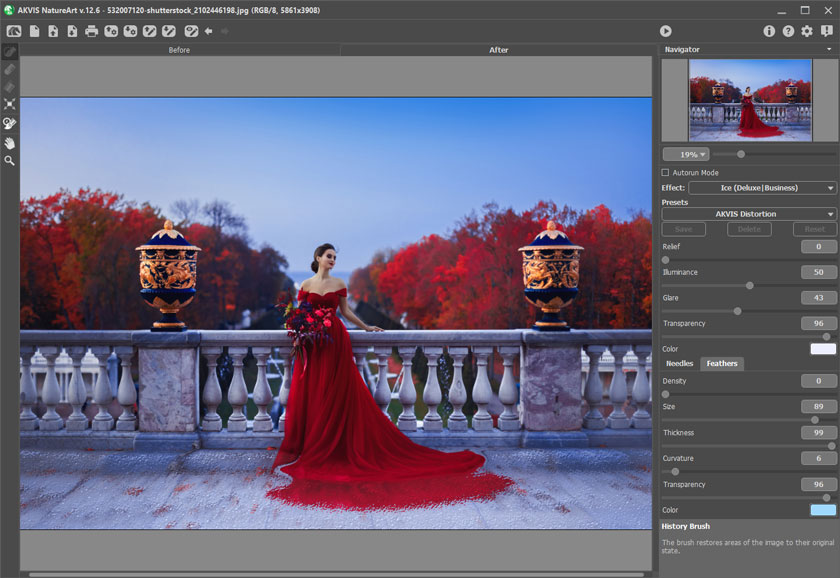 Ice Effect in AKVIS NatureArt
The effect will be applied only in a selected area! Use the follow tools to make a selection:
Selection Brush . This tool is used to highlight areas to which an effect will be applied. You can change the tool's size in a pop-up window which opens with a right mouse click in the image window.

To get a straight line, draw a line while holding down Shift.

Eraser . The tool lets you edit the selection. Adjust its size in a pop-up window.
Selection Bucket . The tool fills an area outlined with the Selection Brush (helpful for selecting large areas).

If the area was not circled by , the entire image will be selected by clicking with .

Hint: You can use Selection Bucket in "eraser mode" to erase all selections at the image. Just click the left mouse button while pressing Ctrl.
The effect configuration can be adjusted in the Settings Panel.
The main parameters:
Relief (0-100). Increasing this parameter makes the ice surface more uneven, with a sharper and deeper pattern.

Relief = 20

Relief = 70

Illuminance (0-100). The parameter changes the brightness of light reflected from the ice. The higher the value, the brighter the ice pattern and glare become. At lower values the brightness is less intense.

Illuminance = 20

Illuminance = 70

Glare (0-100). Increasing the value will result in a glare over an uneven surface. The higher the value of this parameter, the brighter the glare. The number and the size of glare depend on the Illuminance. If Illuminance=0 the glare is not visible.

Glare = 0

Glare = 80

Transparency (0-100). As this parameter is increased, the background becomes more visible. At lower values the ice becomes more opaque and its color more evident.

Transparency = 30

Transparency = 80

Color. The ice color can be changed by clicking on the color plate and choosing a new color from the Select Color dialog.

White Ice

Blue Ice
There are two groups of the additional parameters which add more patterns to the ice's surface: Needles and Feathers.
Parameters under the Needles tab add a pattern of fine needles to the surface:
Density (0-100). Increasing the value increases the number of needles within the selected area.

Density = 20

Density = 70

Max Length (0-100). This parameter sets the maximum length of the needles. The length of needles may vary, but they will not exceed the specified value.

Max Length = 10

Max Length = 50

Branching (0-100). As this parameter's value is increased, the needles begin to branch out and take the form of crystalline branches. The higher the value the more branches will appear.

Branching = 15

Branching = 45

Transparency (0-100). This parameter affects the transparency of the needles with respect to the background color. At lower values the needles are more opaque; at higher values the background is more visible; and at 100% the needles are completely transparent and invisible.

Transparency = 10

Transparency = 70

Color. The needles color can be changed by clicking on the color plate and choosing a new color from the Select Color dialog.

White Needles

Blue Needles
Parameters in the Feathers tab can be used to add a pattern like icy feathers:
Density (0-100). This parameter increases the number of feathers on an image. At a value of 0 no feathers will be present.

Density = 20

Density = 90

Size (0-100). Increasing the value of this parameter makes feathers larger. They will increase in length as well as width. If the value is set to 0 the feathers will disappear.

Size = 10

Size = 30

Thickness (0-100). If the value of this parameter is increased more branches will appear on the feathers. If the value is set to zero the branches will disappear, and the feathers will take the form of thin rods.

Thickness = 25

Thickness = 75

Curvature (0-100). This parameter affects the degree to which feathers are curved. The higher the value the stronger the curvature of the feathers will be. At a value of 0 the feathers will be straight.

Curvature = 0

Curvature = 50

Transparency (0-100). This parameter determines the translucence of the feathers. The higher the value, the more the background is visible through the feathers. At the maximum value the feathers are completely transparent and invisible.

Transparency = 0

Transparency = 90

Color. The feathers color can be changed by clicking on the color plate and choosing a new color from the Select Color dialog.

White Feathers

Blue Feathers
NatureArt v. 12.1 - Free 10-day Trial