Lionheart
With AKVIS Chameleon, you can create a completely imaginary creature, for example, a half-man, half-animal.
This example was made with the AKVIS Chameleon plugin in AliveColors, but any graphics editor can be used which is compatible with the Chameleon plugin, or you can use the standalone program.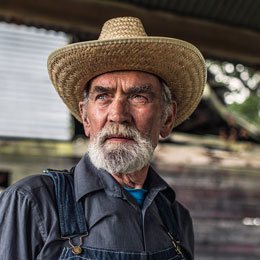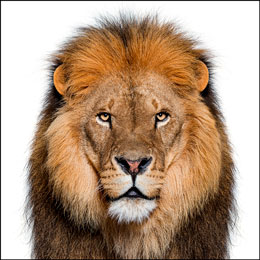 Original Images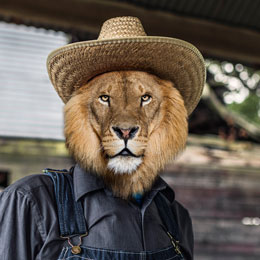 Result
Step 1.

Open the image containing the desired fragment in the graphics editor.

Step 2.

Choose Effects –> AKVIS –> Chameleon – Grab Fragment from the menu. You will see a message stating that the fragment has been taken.

Step 3.

Open the background image. Choose Effects –> AKVIS –> Chameleon – Make Collage from the menu.

The AKVIS Chameleon plugin's window will open. The background image (the photograph of a man) will be in the Before tab, and above it the fragment will be (the photograph of the lion).

The program starts in the Montage mode by default and this is the mode in which we will work.

Step 4.

Choose the Transform tool from the Toolbar and move the lion so its head is oriented directly above the man's head. To make this easier, adjust opacity to 75%.

Step 5.

To better align the head of the lion with the man's body, flip the lion horizontally with the Transform tool. Then resize the lion so that its head is about the same size as the man's head.

Step 6.

Now you need to remove the remaining parts of the lion's photo.

Start by choosing the Drop Area Tool and draw a line around the lion's mane. Then choose the Keep Area Tool and draw a line within the edges of the lion's head, as shown in the image below.

Step 7.

Press to start the collage creation process. The result will be shown in the After tab.

Step 8.

Press . The AKVIS Chameleon plugin's window will close, and the newly created collage will appear in the image editor.

Step 9.

Give the collage a more realistic look by adding an extra touch. Choose the Darken Tool from the graphic editor's tool panel, select the desired size and thickness of the tool's strokes and go over the lion's head where you want the hat's shadow to appear.

You can also adjust the collage's lightness and saturation in the graphics editor.
And now we have a mythical creature with the body of a man and the head of a lion.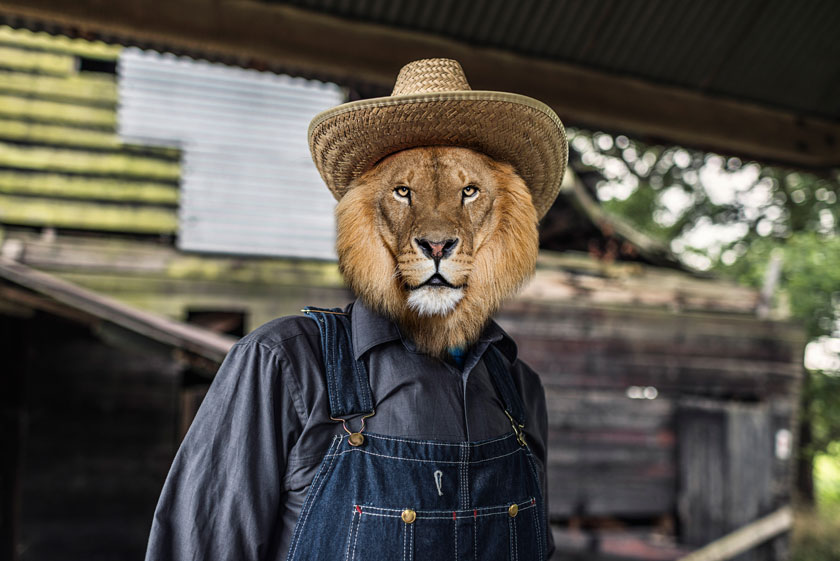 Chameleon v. 12.0 - Free 10-day Trial