Charcoal and Chalk Drawing
AKVIS Charcoal transforms your photos into charcoal and chalk drawings.
Charcoal is one of the most popular materials for drawing. It lets you create a preliminary sketch as well as a finished work of art. It combines the advantages of different materials. Using the sharpened charcoal you can make thin clear lines, but if you put it on the edge you'll get a wide loose stroke.
Chalk, in its traditional white color, is used to highlight bright areas of the image, add accents, and give the picture volume.
Using both tools you can create professional-looking expressive black and white images. It's also possible to play with colors to achieve outstanding artistic effects, such as sanguine or others.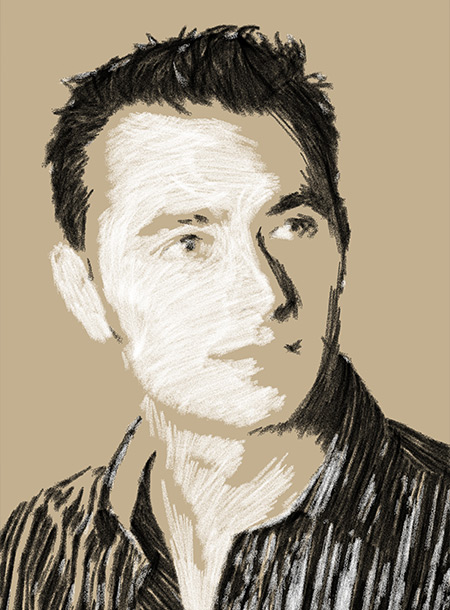 Charcoal and Chalk Drawing From Photo
(Hover the mouse over the picture to see the original image)
Adjust the effect settings in the Drawing tab:
Paper Color. Change the color of the paper by clicking on the color plate.

Light Paper

Dark Paper

Using the Charcoal and Chalk check boxes, you can choose what tools will be used for drawing - both or one of them.

Charcoal and Chalk Drawing

Charcoal Drawing

Chalk Drawing

You can select colors for the charcoal and chalk strokes with the color plates.

Note that these colors will also be used for the post-processing tools and .

Outlines. This additional option works if both drawing materials are active. When the check-box is enabled, extra chalk lines appear along the contrasting borders over the charcoal strokes.

Сheck-box is disabled

Сheck-box is enabled

Simplicity (0-10). The parameter controls pre-processing of the image, removing noise and microdetails, smoothing out weak gradients.

Simplicity = 2

Simplicity = 8

Stroke Thickness (10-100). The parameter defines the maximum width of the strokes.

Stroke Thickness = 20

Stroke Thickness = 70

Stroke Length (10-100). The parameter sets the maximum length of the strokes.

Stroke Length = 10

Stroke Length = 50

Stroke Intensity (0-100). The parameter changes the perceptibility of the strokes. Lower values result in weaker and softer strokes. At higher values more pigments are concentrated into each stroke, so the lines become more noticeable.

Stroke Intensity = 5

Stroke Intensity = 50

Stroke Density (10-100). The parameter affects the number of the strokes. The higher the value, the fewer areas will remain unpainted.

Note: High values of this parameter will significantly increase processing time.

Stroke Density = 20

Stroke Density = 70

Threshold (0-100). The parameter controls the distribution of the charcoal and chalk lines and unpainted zones.

Threshold = 30

Threshold = 80

Smoothing (0-100). When increasing the parameter, the transitions between the strokes become smoother.

Smoothing = 0

Smoothing = 100

Chalk Hatching (10-100). The parameter adds the chalk strokes in light areas.

Chalk Hatching = 10

Chalk Hatching = 50
Charcoal v. 4.0 - Free 10-day Trial