Book Illustration
The author of the example is Alexandr Iljin, Russia. The tutorial was made with version 3.1 of Charcoal. Also, the author used AKVIS Draw and Chameleon.
"Margarita's first surprise on walking in was the darkness. It was as dark as a cellar, so that she involuntarily clutched Azazello's cloak from fear of an accident, but soon from high up and far away a lighted lamp flickered and came closer. As they went Azazello took away Margarita's broom and it vanished soundlessly into the darkness.
They then began to mount a broad staircase, so vast that to Margarita it seemed endless. She was surprised that the hallway of an ordinary Moscow flat could hold such an enormous, invisible but undeniably real and apparently unending staircase. They reached a landing and stopped."
Mikhail Bulgakov, "The Master and Margarita"
When the author first saw the photo, this scene from the novel immediately came into his mind. He didn't aim to create a precise illustration; he just yielded to the creative imagination's appeal.
Alexandr provided himself with the plugins AKVIS Charcoal, AKVIS Draw, and AKVIS Chameleon, which should help him to implement his idea.
Follow the steps below to reproduce the effect obtained by the author.
Step 1.

Firstly, edit the selected photo using AKVIS Charcoal plugin.

Step 2.

The picture is too dark and blurry. Duplicate the original image and then edit the copy using the AKVIS Draw plugin to add color to the image and make it sharper.

Step 3.

Change the order of layers in the layers stack of your graphics editor. Place the charcoal drawing above the pencil drawing. Use the Eraser tool to delete areas from the charcoal drawing and then merge the layers.

Step 4.

Now it's time to add the main characters. Use the AKVIS Chameleon plugin to create a photo collage.
The effects produced using AKVIS plugins provide a very special flair. As a result, we get an incredibly atmospheric illustration based on motifs of the novel by Bulgakov.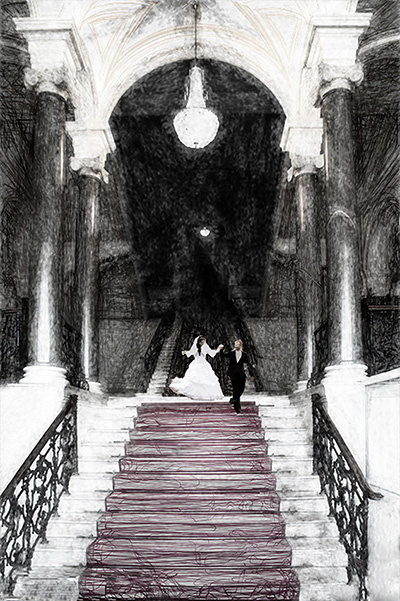 Charcoal v. 5.6 - Free 10-day Trial