A Glamourous Couple
Stylish, glamourous photographs have become the hallmark of the fashion industry. But not everyone knows that before a photo hits the pages of a magazine, it is subjected to thorough processing. Radiant, smooth skin, devoid of defects, is an essential element of a glamourous image.
Here's a simple example of how to smooth out bumps, disguise defects, and give skin a flawless appearance using AKVIS MakeUp.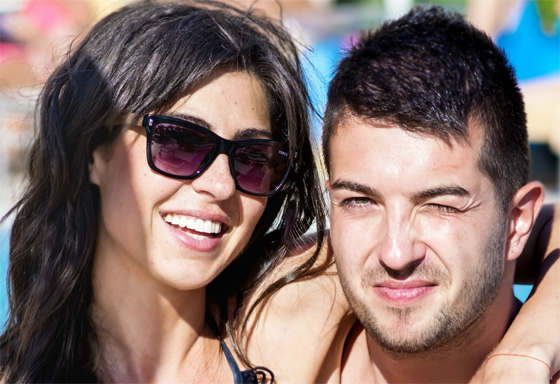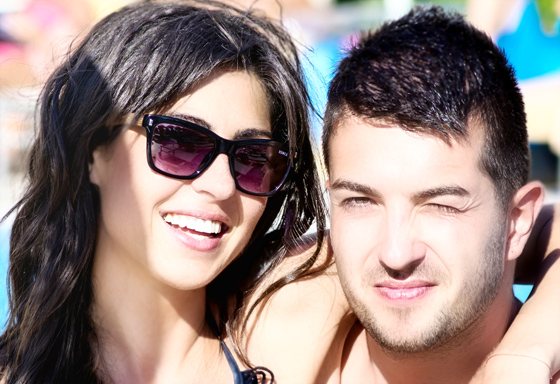 Photo Enhancement
Step 1.

Open an image.

Original Image

Step 2.

Use the navigator to scale the image 100%. The preview window will help you to choose the optimal settings for smoothing the skin (AKVIS Fresh Look preset).

| | |
| --- | --- |
| | |
| Fragment of the Original Image | Smoothing the Skin |

Step 3.

Smoothing will be applied to areas where the mask has been created. To view and edit the tone mask, switch to Advanced mode.

The initial mask is created automatically. By activating Show Mask mode (for example on a white background) you can see which areas the mask will affect.

Show Mask Mode Menu

Mask on a White Background

Now use the tool to add areas to the mask, and remove areas with the tool.

Edited Mask

Step 4.

Process the image by pressing .

Step 5.

Finally, you can process the image further in the After tab. You can remove small defects and blemishes using the Spot Remover tool.
MakeUp v. 7.8 - Free 10-day Trial