Resurfacing
You can apply a new texture to a selected object. Adjust the parameters in the Settings Panel in the Texture tab.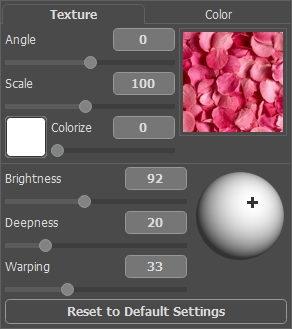 Texture Library
AKVIS Decorator includes the built-in Texture Library with a great variety of patterns. To open the Library, double-click on the square with a texture sample. All textures in the program are divided into groups: stone, fabric, flowers, etc. Choose a group from the tree and then select a texture with a double click.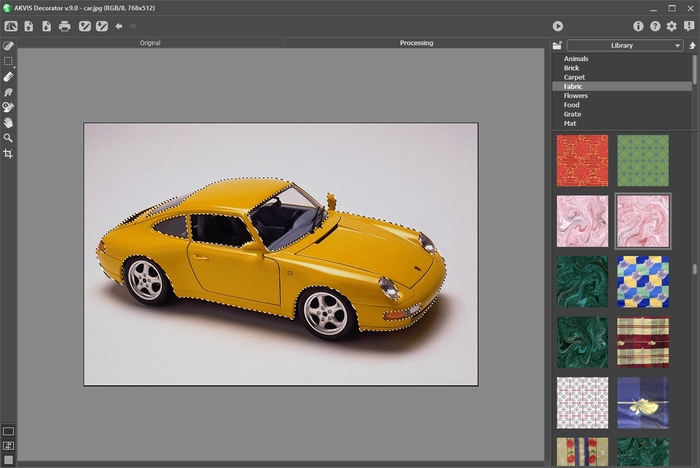 User Textures
You can also use your own textures in AKVIS Decorator.
To load an image as a texture into the program for a one-time use, open the Library, press

and select your texture.
It's also possible to specify a user texture folder. Switch from the Library to My Textures and select a folder with your images.
To come back to the Settings Panel without selecting a texture, click on

.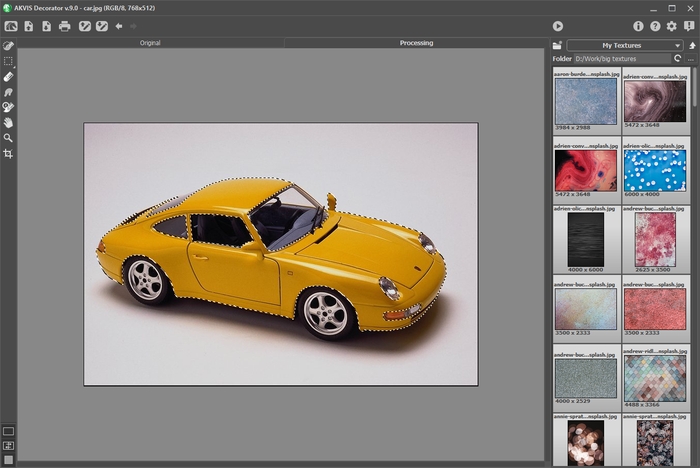 Adjust the texture settings:
Adjust the parameters that influence the way the texture is applied to the object:
Brightness (10-200). This parameter lets you lighten or darken the selected area. The default value is 100. The higher the value, the brighter the image is.

| | |
| --- | --- |
| | |
| Brightness = 70 | Brightness = 120 |

Deepness (0-100). This parameter influences the amount of light and shade on an image. At 0, shades, folds and gradients are ignored; as a result the object looks flat. The higher the parameter, the more pronounced highlights and shades become, and the image looks deeper. However, if the value of the parameter is too high, some parts can become overexposed or underexposed.

| | |
| --- | --- |
| | |
| Deepness = 5 | Deepness = 35 |

Warping (0-100). This parameter sets the level of the texture warping. At 0, the texture is not warped at all, the higher the parameter, the more deformed the texture is.

| | |
| --- | --- |
| | |
| Warping = 10 | Warping = 90 |

Light Source. Use the dagger on the ball to set the probable light source when the photo was taken. The position of the light source influences the texture wrapping.
Сlick the Reset to Default Settings button to restore the original settings.
Decorator v. 8.2 - Free 10-day Trial