Recoloring
You can recolor the selected object. Adjust the parameters in the Settings Panel in the Color tab.
You can select a color from the Color Palette or from the Select Color dialog box. To select a color from the Color Palette just left-click on any color of the palette. The selected color will be shown in the color rectangular on the right.
Click on the color rectangle to activate the eyedropper tool, double click to open the selection color dialog.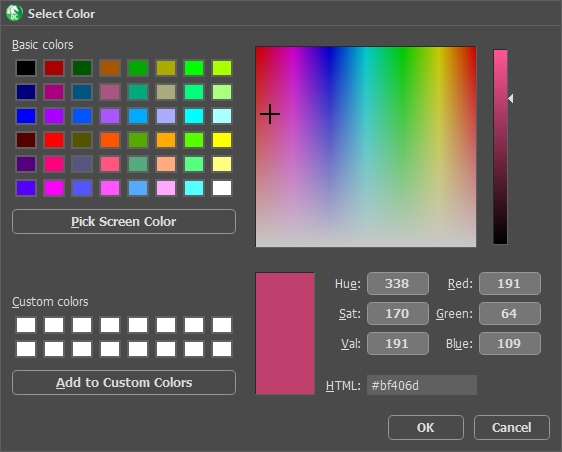 In the Color tab there is also a mini-palette (empty cells) where you can keep custom colors. To save a color in the mini-palette, just drag this color from the color rectangle on any cell of the palette (even if the cell is not free). To select a color from the mini-palette, just left-click it with the mouse. To remove a color, right-click it.
Adjust the parameters that influence the way the color is applied to the object:
Brightness (10-200). This parameter lets you lighten or darken the selected area. The default value is 100. The higher the value, the brighter the image is.

| | |
| --- | --- |
| | |
| Brightness = 60 | Brightness = 140 |

Deepness (0-100). This parameter influences the amount of light and shade on an image. At 0, shades, folds and gradients are ignored; as a result the object looks flat. The higher the parameter, the more pronounced highlights and shades become, and the image looks deeper. However, if the value of the parameter is too high, some parts can become overexposed or underexposed.

| | |
| --- | --- |
| | |
| Deepness = 5 | Deepness = 40 |
Сlick the Reset to Default Settings button to restore the original settings.
Decorator v. 8.2 - Free 10-day Trial