The Best Photoshop Alternatives: Top-5 Graphic Editors
Photo editors are special programs designed to process photographs and create digital images. The image editing software are widely used at the professional level for work or amateur as a hobby. Now, there are many solutions for every taste and budget.
Perhaps the most well-known photo editing program is Adobe Photoshop and most professionals choose it. However, not everyone may need the editor's redundant functionality, or the high hardware requirements, and rather impressive cost of the product can scare away.
Let's consider several analogs of Photoshop that allow you to solve most graphic tasks: photo retouching, color and tone adjustment, creating raster and vector illustrations, etc.
AliveColors (alivecolors.com)
It's a multifunctional cross-platform graphics editor (available for Windows, Mac, Linux). The program allows you to create and edit images, work with raster and vector graphics.
AliveColors is the best alternative to the well-known Photoshop raster editor due to its extended functionality and close work logic. The program is available in paid and free versions.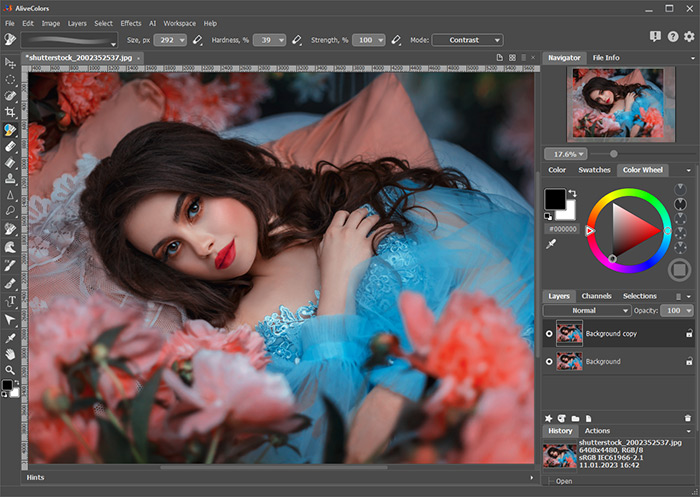 AliveColors
Pros

User-friendly interface
Unique tools and effects
Filters and tools based on neural networks
8bf plugin support
automation processing
RAW files processing
Continuous and regular updates
Free technical support
Switchable multilingual interface

Cons

Not fully compatible with psd
Part of the functionality is not entirely accessible in the Free version
GIMP (gimp.org)
It's a cross-platform image editor available for Linux, Mac, Windows and other operating systems. GIMP is a free program that allows you to change a source code and distribute those changes.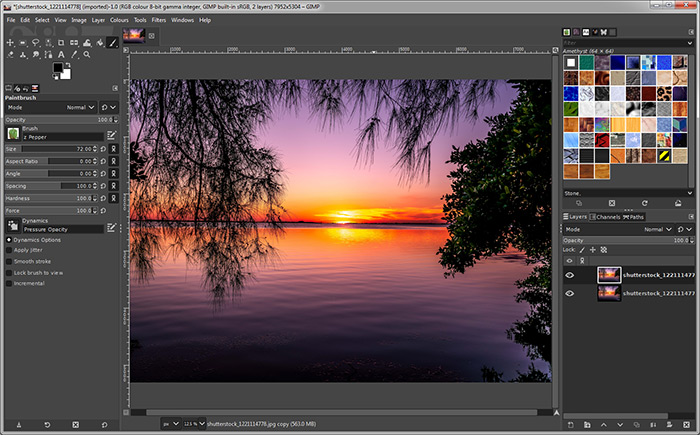 GIMP
Pros

Great scope for customization
Many plugins available
Wide range of adjustments and effects
Basic work with vector
Large list of supported files
Script support

Cons

Complex interface
Difficult connection of third-party plugins
For full use, you need programming and scripting skills
Paint.NET (getpaint.net)
It's a free raster graphics editor for drawings and photos for Windows, developed on the .NET Framework.
Paint.NET is a great replacement for the graphics editor that comes with Windows. The program also has everything you need for basic image editing: work with layers, the ability to draw and highlight details, adjustments and effects.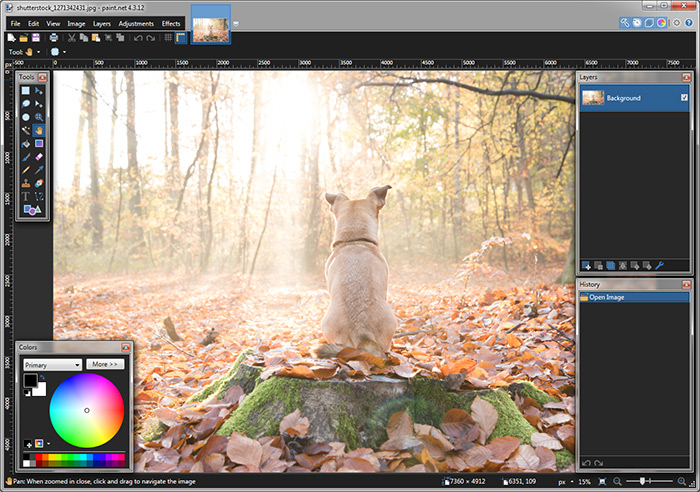 Paint.NET
Pros

Easy to learn
Translated into many languages
Basic set of filters and adjustments

Cons

Deprecated interface
Not supported RAW formats
Difficult connection of third-party plugins
Only for Windows! (Strictly speaking, it cannot be classified as a cross-platform program.)
Movavi Photo Editor (movavi.com)
It's a program that focuses on color correction, noise reduction, white balance, tint adjustment, and other popular processing options. The program can be used as a limited alternative to Adobe Lightroom.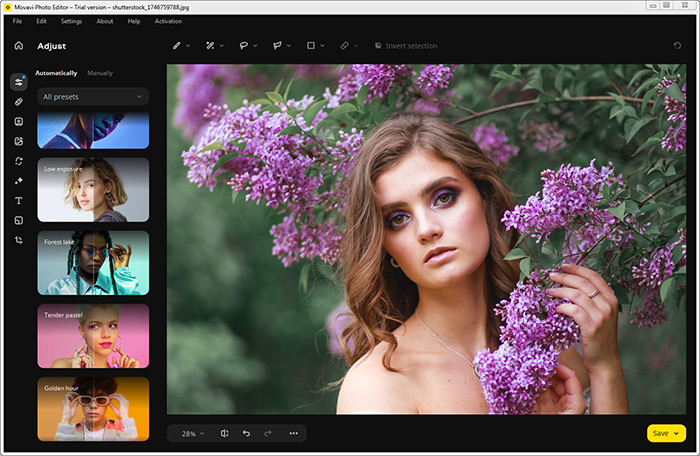 Movavi Photo Editor
Pros

Quick photo correction
Features based on neural networks

Cons

No layered project saving
No batch processing
Few tools
Watermark in the free version
Affinity Photo (affinity.serif.com)
It's a professional photo editor that has everything you need for editing and retouching images, creating multilayer compositions, raster and vector drawings. The program is available for Windows, macOS, and iOS.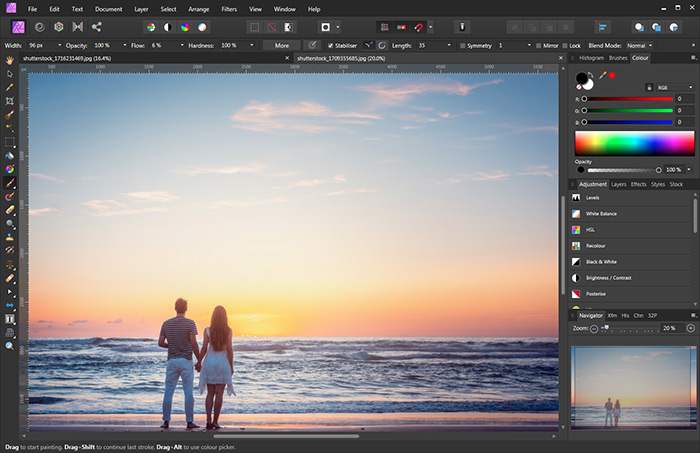 Affinity Photo
Pros

90 days trial
Large set of tools
Quick work of tools and filters
PDF support
Work with vector formats (SVG, EPS)

Cons

No Linux version
No Free version
Conclusion. There are many different products on the image editing software market for any user - you can choose a free or paid program. Most paid products offer a trial version so that you can get acquainted with the functionality of the selected graphics editor and decide whether it is the best choice for you or not.
If you've worked with Photoshop before, your best bet is AliveColors (alivecolors.com). This image editing software has a logic very similar to the Adobe product, so the transition will be as easy as possible.
For home users, either a Free version of the image editor, slightly limited in functionality, or an inexpensive Home license, which includes unlimited use of ALL program features, free access to technical support, and a year of free updates, may be sufficient. Academic and Seniors discounts are offered at the program web-site.
For professionals and corporate clients, there is a Business license of AliveColors that includes all the features of the program and allows you to use the product for profit. This version is also available for educational institutions at a special discounted price.