Image View Modes: Before and After
At the bottom of the Toolbar of AKVIS Noise Buster AI, there are three buttons which let you choose how the Image Window will look like and arrange the Before and After tabs.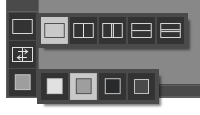 Click the first button to open a submenu that contains various options for viewing the original and processed images:

- The button provides the standard image window mode with two tabs: Before and After.

- The buttons and divide the main window into two parts, vertically or horizontally, respectively. The original and processed images become partially visible and the tabs are combined to form the whole picture.

With this arrangement, it's possible to drag the splitter changing the aspect ratio between the Before and After parts.

- The buttons and split the main window into two parts, vertically or horizontally, as well. However, in contrast to the previous option, the windows display the same fragment of the image before and after processing.

Note: Use two windows side by side when you want to see and compare the original and processed versions of an image fragment on one screen. If you would rather see the final image as a whole, you can choose the standard image view mode.

The button swaps the positions of the original image and result when displaying two windows.
The 3rd button lets you choose the background color of the Image Window. Pressing , , or changes the background color to white, gray, or black, while clicking on opens the Select Color dialog where you can choose a color of your choice.
Noise Buster AI v. 12.1 - Free 10-day Trial