AKVIS ArtSuite 19.0
| Frames and Effects for Your Photos
What's New in Version 19.0
AKVIS ArtSuite offers spectacular effects and frames for photos. Version 19.0 presents the new Glitch Art effect, redesigned user interface, the Favorites group for presets, support for more RAW files, and better stability. Add the perfect touch to your photos!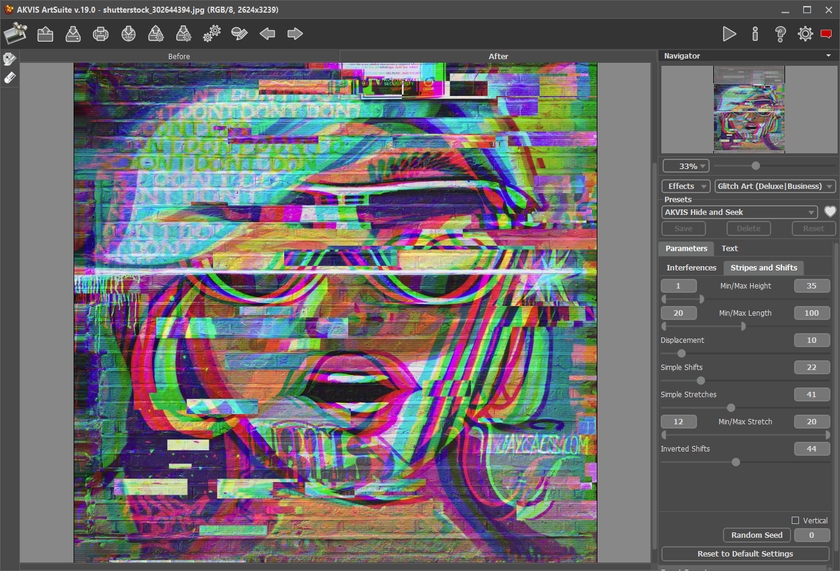 In Version 19.0:
NEW Effect: Glitch Art

ArtSuite 19.0 offers the new Glitch Art effect which adds digital noise and distortions, creating the effect of an allegedly spoiled picture to enhance aesthetic value and visual interest.

The Glitch Art effect includes a set of ready-to-apply presets. Get inspired and try a variety of uses and interpretations of the effect. Give a unique style to your photos! Achieve the aesthetics of the digital age!

The effect is available exclusively for Home Deluxe and Business licenses.

New Interface

The user interface has been redesigned according to modern trends. You can switch between the Dark and Light styles. The interface elements are positioned much more conveniently and functionally.

Favorites Group of Presets

The Presets field has been moved higher in the panel for easier access and is located now just below the Effects/Frames list. Now you can add the most liked Presets to Favorites by activating a heart icon next to the preset name.

Also, in the update:

- Extended the list of supported RAW formats;
- Fixed bugs and improved program stability.
Download AKVIS ArtSuite 19.0 and make your photos look extra special!
Update to The New Version:
The upgrade is FREE for recent buyers who purchased or upgraded AKVIS ArtSuite during the last 12 months.
Check if you are eligible for a free update in the Customer Room or contact us at support@akvis.com.
If your license is older and is not valid for the new version, you can get the update for only $14.95.
You can update all your AKVIS programs to the latest versions for $39.95.
License Upgrade:
Level up your license to Deluxe or Business by paying only the difference in prices and get all the Deluxe/Business features plus extra 1 Year of Updates for FREE as a bonus.
Learn more about update/upgrade options.
Changes in previous versions: