Rabbit Family: Combining the Effects
One of the most difficult things in digital art is to make an image look less digital and more "painted". Using AKVIS Programs you can easily create lifelike masterpieces in various techniques. You can combine several effects to get totally unique results!
In this tutorial, you will learn how to creatively blend the AKVIS Pastel effect with the AKVIS Neon effect to give a painting more depth and atmosphere.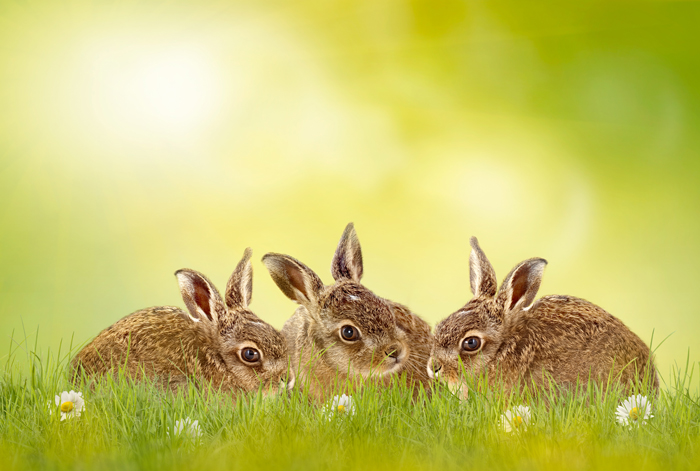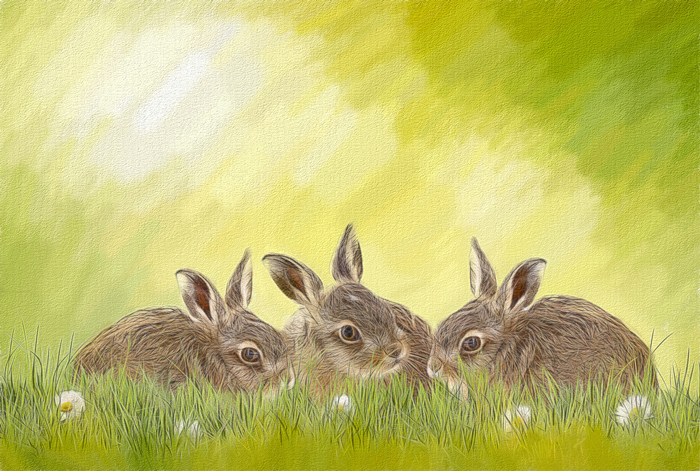 Digital Drawing
(open a larger version)
Step 1.

Open an image in Adobe Photoshop or AliveColors (you can use the Free version of AliveColors).

Source Image in Adobe Photoshop

Step 2.

Duplicate the background layer by pressing Ctrl+J (Win) / ⌘+J (Mac) and rename it to "Pastel".

Pastel Layer

Step 3.

Select the "Pastel" layer and call the AKVIS Pastel plugin: Filter -> AKVIS -> Pastel.

Choose the AKVIS Satin Touch preset and process the image the image by clicking on . Use the Stroke Direction tool to draw the guiding lines.

Using Stroke Direction Tool

Go to the Decoration tab and activate the Canvas effect. Adjust the settings.

Pastel on Canvas

Click on to apply the effect.

Step 4.

Duplicate the background layer again and rename it to "Neon Light".

Change the blending mode for this layer to Lighten.

Neon Light Layer

Step 5.

Select the "Neon Light" layer and call the AKVIS Neon plugin: Filter -> AKVIS -> Neon.

Choose the AKVIS Delicate Style preset and process the image the image by clicking on . Go to the Decoration tab and activate the Canvas effect. Adjust the settings.

Neon Effect on Canvas

Click on to apply the effect.

Step 6.

Duplicate the background layer one more time and rename it to "Neon Dark".

Change the blending mode for this layer to Multiply and set the opacity value to 60%.

Neon Dark Layer

Step 7.

Select the "Neon Dark" layer and call the AKVIS Neon plugin: Filter -> AKVIS -> Neon.

Choose the AKVIS Esquisse preset and process the image by clicking on .

AKVIS Esquisse Preset

Click on to apply the effect.

You can use the Eraser tool in the image editor to remove the unnecessary strokes in the background.

Step 8.

Merge the layers into a single one and save the result.

AKVIS Pastel + AKVIS Neon

You can make the painting even more realistic by adding a more visible canvas texture. To this effect, you can use the Texture option in AKVIS ArtSuite software.

AKVIS Pastel + AKVIS Neon on Canvas
Pastel v. 5.6 - Free 10-day Trial