Enter the Raffle and Win the Prize!
May 31, 2010. The registration is over.
AKVIS Birthday Raffle 2010
Every year AKVIS organizes a raffle in celebration of the company's Birthday.
This year AKVIS is 6 years old! We are starting the Raffle 2010!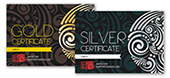 Prizes:
The raffle participants have a chance to win
The names of 5 winners will be drawn out by chance on May 31, 2010.
2 winners will get Gold Certificates, 3 winners — Silver Certificates for AKVIS software.
An AKVIS Gift Certificate gives the recipient the right to get an AKVIS photo editing program of his/her choice (read more).
Also, each raffle participant gets a 15% discount for all AKVIS software!
Register by filling in the Raffle Form (below) to get a 15 % discount (the discount coupon will be sent to you by email within minutes), and to win a Gift Certificate in the Birthday Raffle.
Try your luck!
This year we do not ask to you fill out a large form, you do not have to answer a lot of questions.
All you need to do is to enter your name and email!
Raffle Registration Form:
About Discounts:
Your 15% coupon code will be valid till June 15, 2010.
The coupon will work for purchasing any AKVIS program (any license type), but not for upgrades and not for software bundles which are already money-saving offers. See the full list of AKVIS programs.
If you have any questions, please, contact us.
About Company

AKVIS specializes in image processing software development and scientific research. The company was founded in 2004 by IT professionals having considerable experience in programming and software development. Since then the company has released a number of successful programs.
AKVIS Birthday Raffle 2005
In May 2005 we started our Raffle for the first time. Each participant had a chance to win a free license for any AKVIS plug-in. Raffle Winners in 2005: Hans de Wolf, Robert Norsoph, Bart Cross, Michael Plant, Vadim.
AKVIS Birthday Raffle 2006
In 2006 we organized again a raffle in celebration of the company's Birthday. That year the raffle participants had a chance to win a software bundle - any AKVIS plug-in plus 10 other useful software. The names of 10 winners were drawn out by chance.
Read more about the event and the winners.
AKVIS Birthday Celebration 2007
In 2007 in celebration of our company's birthday we offered a 20% discount on all programs. In contrast to our last raffles, each participant has given a special coupon code for AKVIS software. Read more...
AKVIS Birthday Celebration 2008
In 2008 the Raffle participants had a chance to win a Free license key for any AKVIS program. Also we offered a 15% discount on all our software. Also we organized the AKVIS Creative Contest. The participants had to think up a new slogan for AKVIS pages, the prize was the Alchemy Bundle (which included 11 AKVIS plugins that time). Read more...
AKVIS Birthday Celebration 2009
In 2009 AKVIS was 5 years old, and we had 5 Raffle winners, each of them got 5 AKVIS programs as prizes. In addition to the raffle, we started AKVIS Creative Contest 2009 "Draw a Mascot!". We offered the discount for all Raffle (15% Off) and Contest (50% Off) participants. Read more...