AKVIS Frames 6.0 Free
| Decorate Your Photos with Frames
What's New in Version 6.0
AKVIS Frames is a free photo editing program designed for use with AKVIS frame packs. Version 6.0 offers the improved processing of frame templates, a redesigned user interface, and other enhancements in usability and stability.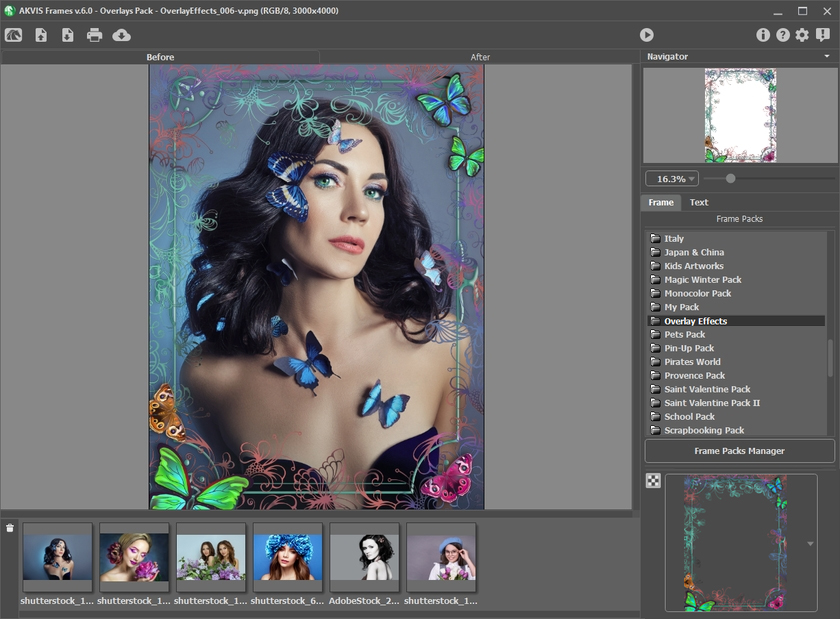 In Version 6.0:
New Interface

The user interface has been re-designed to provide a modern experience. The program icon has also been changed.

Enhanced Processing of Frames

The processing of transparent templates has been improved. This version works better with a new type of overlay frames with positioning a picture on the entire canvas.

The transparent templates give impressive results by blending of a photo with a frame. The effect of mixing photos will really surprise you!

Added a new mode of working with semitransparent one-hole frames - Clipping. This mode can be useful in some cases when you want to turn off the transparency of the frame.

Usability Improvements

- Now you can easily change the order of loaded images in the list below the image window.
- The last used image in the list is kept selected when switching between frame packs.

Also, in the update:

- Extended the list of supported RAW formats;
- Increased the program stability and fixed minor bugs.
Download AKVIS Frames 6.0 and make eye-catching images!
Changes in previous versions: Frames 5.0 | Frames 4.0 | Frames 3.5, 3.6.
New Frame Packs
Gingerbread Pack ($ 17): 100 charming image frames, 50 horizontal and 50 vertical templates aimed to conjure up the aroma of gingerbread cookies and put anyone in a festive mood. Get inspired and spread some holiday cheer to your family and friends with this delicious collection of adorable designs! Create lovely personal collages, greeting cards or gift tags that will make your presents extra special.
Overlay Effects ($ 15): 60 high-quality picture frames, 30 horizontal and 30 vertical transparent and semi-transparent stylized templates. Their distinctive feature is lightness, airiness, and grace. You can merge a frame with your photo creating an appealing composition. The new pack allows you to express your creativity and make truly impressive works.
Bright Summer ($ 17): 100 picture frames of superior quality, 50 horizontal and 50 vertical templates dedicated to the most colorful time of the year. Create a nautical style photo book or smash journal, embellish your social media photos or a seaside photo shoot, make a summer schedule for kids or prepare tropical party invitation cards. Pretty much every image will benefit from these lovely designs. Feel the spirit of summer!