AKVIS Frames 7.1 Free
| Decorate Your Photos with Frames
What's New in Versions 7.0, 7.1
AKVIS Frames is a free photo editing program for working with AKVIS frame packs.
Version 7.0 includes the Favorites tab, redesigned Frame Packs Manager, and other improvements. Turn your everyday photos into art with exclusive frame templates!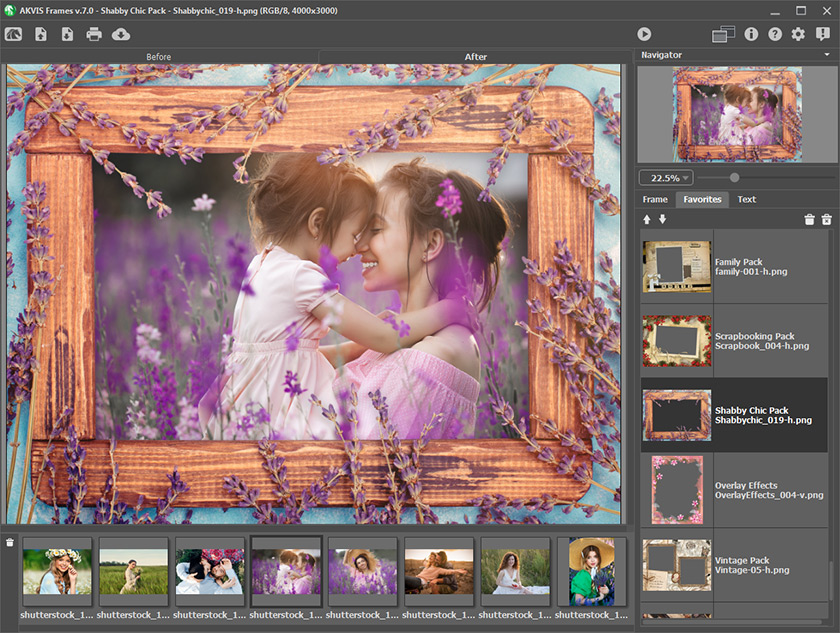 In Version 7.0:
New Favorites Tab

Now you can add your most-used frames to Favorites. They appear in the new tab that contains your favorite frames from all registered packs. This new option is helpful and fun to use and makes the work in the program even more effective and entertaining.

Modernized Frame Packs Manager

The work with the themed frame packs has been significantly improved! The program offers the redesigned Frame Packs Manager. It's now easier to manipulate the packs. You can choose the appearance of the window (list or thumbnails). The new version offers convenient control buttons and a filtering list, which makes it easier to find and sort packs. Use themed frame collections with ease and create memorable masterpieces!

Also, in the update:

- Added Scale Frame to Fit Window option to the Preferences.
- Added Frame Packs Manager button to the top panel.
- Minor interface improvements.
- Fixed bugs and increased stability.
In Version 7.1:
Added native support for the Apple M1 series of processors.
Implemented minor interface improvements.
Discontinued support for Mac OS X 10.10-10.11. The previous versions are available for users of old Macs.
Fixed minor bugs and increased stability.
Download AKVIS Frames 7.1:
Learn how to get a free key for the program.
Make your photos special with AKVIS Frames!
Changes in previous versions: Frames 6.0 | Frames 5.0 | Frames 4.0 | Frames 3.5, 3.6.
New Frame Packs
Easter Pack II ($ 17): 100 cheerful picture frames in pastel and vivid colors embellished with spring florals and Easter decorations. Choose from a variety of ready-to-use templates to create a professional-quality photo book or a personalized slideshow. Surprise your family with a unique and memorable gift! Using AKVIS frames, it takes only minutes to make any picture really stand-out. Bring the spring's beauty to your photos!
Gingerbread Pack ($ 17): 100 charming image frames, 50 horizontal and 50 vertical templates aimed to conjure up the aroma of gingerbread cookies and put anyone in a festive mood. Get inspired and spread some holiday cheer to your family and friends with this delicious collection of adorable designs! Create lovely personal collages, greeting cards or gift tags that will make your presents extra special.
Overlay Effects ($ 15): 60 high-quality picture frames, 30 horizontal and 30 vertical transparent and semi-transparent stylized templates. Their distinctive feature is lightness, airiness, and grace. You can merge a frame with your photo creating an appealing composition. The new pack allows you to express your creativity and make truly impressive works.