AKVIS Frames 7.3 Free
| Decorate Your Photos with Frames
What's New in Versions 7.0, 7.1, 7.2, 7.3
AKVIS Frames is a free photo editing program for working with AKVIS frame packs. Turn your everyday photos into art with exclusive frame templates!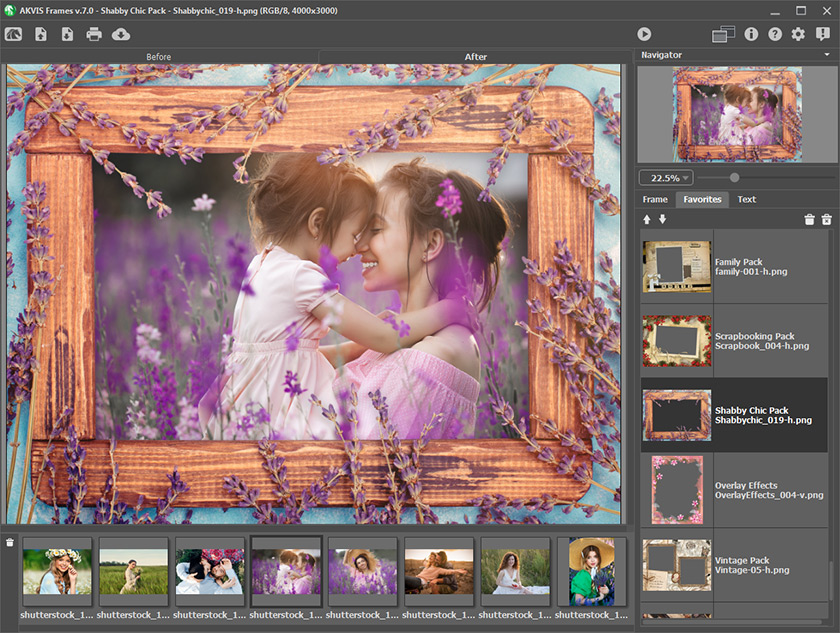 In Version 7.0:
New Favorites Tab

Now you can add your most-used frames to Favorites. They appear in the new tab that contains your favorite frames from all registered packs. This new option is helpful and fun to use and makes the work in the program even more effective and entertaining.

Modernized Frame Packs Manager

The work with the themed frame packs has been significantly improved! The program offers the redesigned Frame Packs Manager. It's now easier to manipulate the packs. You can choose the appearance of the window (list or thumbnails). The new version offers convenient control buttons and a filtering list, which makes it easier to find and sort packs. Use themed frame collections with ease and create memorable masterpieces!

Also, in the update:

- Added Scale Frame to Fit Window option to the Preferences.
- Added Frame Packs Manager button to the top panel.
- Minor interface improvements.
- Fixed bugs and increased stability.
In Version 7.1:
Added native support for the Apple M1 series of processors.
Implemented minor interface improvements.
Discontinued support for Mac OS X 10.10-10.11. The previous versions are available for users of old Macs.
Fixed minor bugs and increased stability.
In Version 7.2:
Fixed minor bugs and improved processing of transparent frames.
In Version 7.3:
Fixed a dpi loss when saving images.
Fixed work with long names of template files.
Added separate versions for Windows 32-bit and 64-bit.
Added support for Linux.
Improved stability.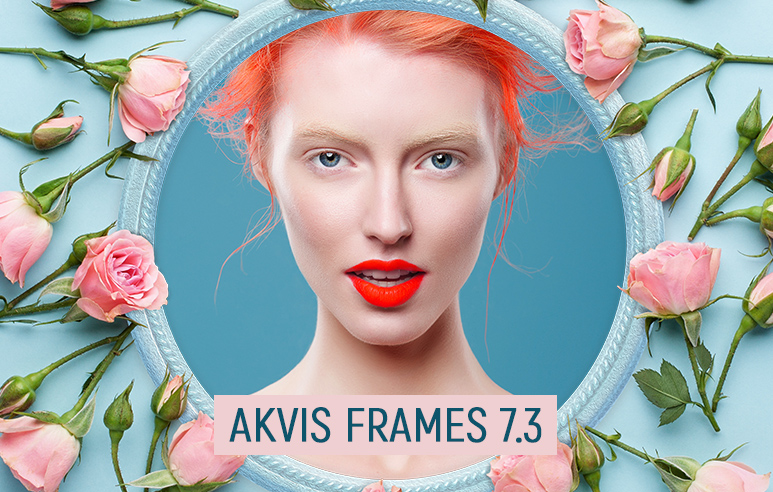 Download AKVIS Frames 7.3 Free:
Learn how to get a free key for the program.
Make your photos special with AKVIS Frames!
Changes in previous versions: Frames 6.0 | Frames 5.0 | Frames 4.0 | Frames 3.5, 3.6.
New Frame Packs
Light Effects Pack ($ 19): 100 stylish templates in both landscape and portrait orientation. The artists-made picture frames are decorated with a variety of light overlays: romantic twinkling stars, dreamy bokeh rings, luminous garlands, elegant neon flowing stripes, dramatic sun flares, magic glitters and sparkles. Make your photos shine!
Classic Pack ($ 17): 100 ready-to-use photo frames in both landscape and portrait modes. The classic collection offers a wide range of photo frame designs: from traditional wood and metal moldings, contemporary and Scandi-style templates to gilded designs with baroque and antique motifs. Find a perfect companion for any photo!
Overlay Effects II ($ 19): 100 ready-to-use decorative photo frames in both landscape and portrait modes. With a wide range of beautiful multipurpose patterns, it's easy to get inspired and quickly add artistic effects to your images! Customize the appearance of your most-loved photos to make them look tender, cute, or simply breathtaking!