AKVIS Frames 6.0 Free
| Decorate Your Photos with Frames
AKVIS Frames is a free photo editing software intended for use with AKVIS Frame Packs. Using the software, you can easily place your photos in high-quality digital frames. Embellish your photos, design your own invitation cards, create eye-catching social media images, make stylish smash book layouts, or decorate your family photo album!
What's New in Version 4.0
In version 4.0, we're introducing a brand new feature in response to popular request: creating custom frame packs. The updated Frame Packs Manager offers the new Delete button. Also, the recent version brings support for more RAW files, improved stability, and minor bug fixes. You can update the software free of charge.
Now you can easily create your own frame packs! Open the Frame Packs Manager, click the Custom Pack button, enter the name of your pack, and choose a source folder. Your own frame pack is now ready to use!
Added the Delete button to the Frame Packs Manager.
Added support for new RAW files.
Fixed some bugs and improved the stability of the program.
Download and install the latest version of AKVIS Frames!
New Frame Packs
Golden Autumn ($ 17): 100 high-quality frames, 50 horizontal and 50 vertical templates, dedicated to the wonderful fall season. Ready-made colorful templates are perfect for decorating your precious memories. Enjoy the beauty of fall on your pictures!
Garden Pack ($ 17): 100 high-quality frames, 50 horizontal and 50 vertical templates, from simple to sensational, from hand-drawn to photorealistic, creatively decorated with thousands of beautiful flowers and juicy fruits, vintage garden tools and wooden baskets, garden gnomes and other figurines, handmade pieces and ornaments. Add warmth and freshness to your pictures!
It's a Boy ($ 17) and It's a Girl ($ 17) packs: two frame collections, each with 100 ready-to-use adorable templates, for decorating photos of your baby. Keep the cutest memories of your baby's first year! Embellish your baby's photos, make an invitation to a family holiday event or a greeting card for grandparents, create a catchy slideshow with your baby's milestones. These will be wonderful memories you will always treasure.
Buy two frame packs in the Baby's First Year Bundle 30% Off! Get a versatile collection of stylish frames for kids' photos!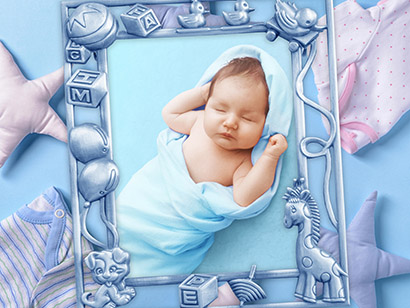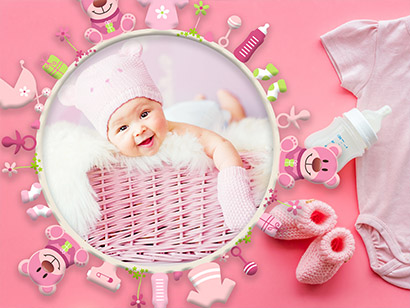 Download: It's a Boy, It's a Girl
|
Order Bundle 30% Off ($ 23.80)
See the full range of AKVIS picture frames.
All Frame Packs Bundle for $380.