AKVIS Frames 7.2 Free
| フレームパック
バージョン 7.0 での新機能:
AKVIS Frames is a free photo editing program for working with AKVIS frame packs. Version 7.0 includes the Favorites tab, redesigned Frame Packs Manager, and other improvements. Turn your everyday photos into art with exclusive frame templates!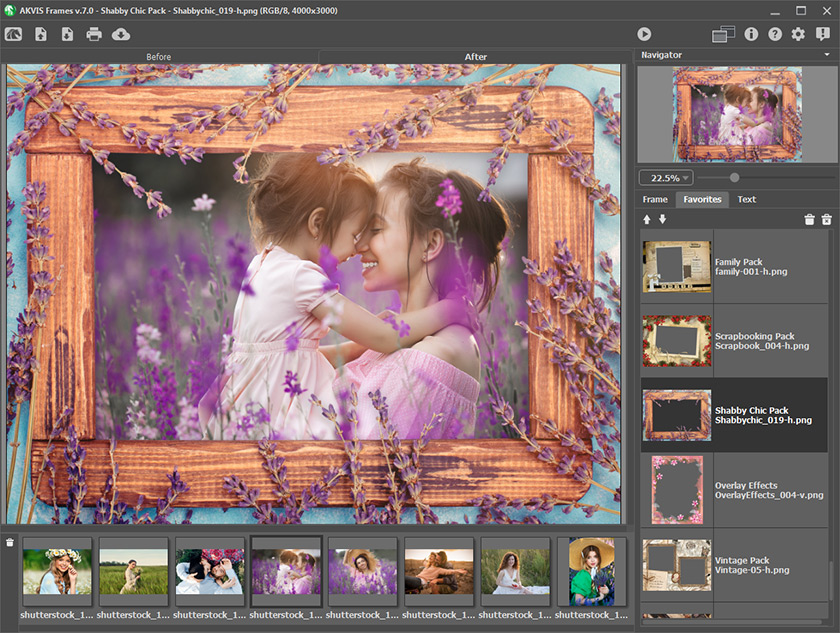 In Version 7.0:
New Favorites Tab

Now you can add your most-used frames to Favorites. They appear in the new tab that contains your favorite frames from all registered packs. This new option is helpful and fun to use and makes the work in the program even more effective and entertaining.

Modernized Frame Packs Manager

The work with the themed frame packs has been significantly improved! The program offers the redesigned Frame Packs Manager. It's now easier to manipulate the packs. You can choose the appearance of the window (list or thumbnails). The new version offers convenient control buttons and a filtering list, which makes it easier to find and sort packs. Use themed frame collections with ease and create memorable masterpieces!

Also, in the update:

- Added Scale Frame to Fit Window option to the Preferences.
- Added Frame Packs Manager button to the top panel.
- Minor interface improvements.
- Fixed bugs and increased stability.
In Version 7.1:
Added native support for the Apple M1 series of processors.
Implemented minor interface improvements.
Discontinued support for Mac OS X 10.10-10.11. The previous versions are available for users of old Macs.
Fixed minor bugs and increased stability.
In Version 7.2:
Fixed minor bugs and improved processing of transparent frames.
Download AKVIS Frames 7.2:
旧バージョンの変更点: Frames 6.0 | Frames 5.0 | Frames 4.0 | Frames 3.5, 3.6.
新しいフレームパック
クラシック フレーム: パックには、100種類のデコレーションテンプレート、ランドスケープモードとポートレートモードの両方ですぐに使えるプロレベルのデザインが含まれています。
オーバーレイ効果 II: パックには、100種類のデコレーションテンプレート、ランドスケープモードとポートレートモードの両方ですぐに使えるプロレベルのデザインが含まれています。
イースターパック II: 100の画像フレーム、最高品質で50の横向きと50の縦向きの既成テンプレートです。