AKVIS Wishes You Merry Christmas 2010
Special Christmas Offers and Discounts

AKVIS would like to wish you a happy and safe holiday season!
This festive time is a time for Christmas shopping when you can enjoy special offers, discounts, and bargains.
To celebrate Christmas in 2010, the company is offering great discounts on its software for everybody!
You may find some gift ideas for your family and friends.
Only Now! In December 2010 - a 30% discount for all AKVIS programs!
Just enter the coupon* XMAS2010 when ordering AKVIS products.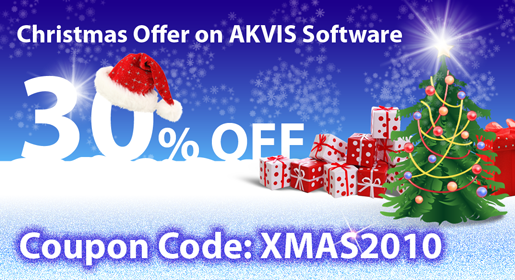 *The coupon works for any AKVIS software, any licenses,
but does not work for the software bundles, upgrades, additional frame packs, and Gift Certificates.
The offer is valid till December 31, 2010.
Also: Xmas Gift Certificate to Inspire Your Creative Friends!
Still no idea what to get your friends for Christmas?
If your friend or a family member is a photo freak, he/she will appreciate our Xmas Gift Certificate.
Merry Christmas and prosperous New Year!