AKVIS Sketch Video 5.5
| Convert Video to Cartoon
What's New in Version 5.5
AKVIS Sketch Video applies pencil drawing effects to videos. The plugin includes three conversion styles presented as three artistic filters (Classic, Artistic, and Esquisse), each with a wide choice of ready-to-use presets. Version 5.5 offers smoothly integrated presets, as well as compatibility and stability improvements. Transform your videos into stylized sketch animations!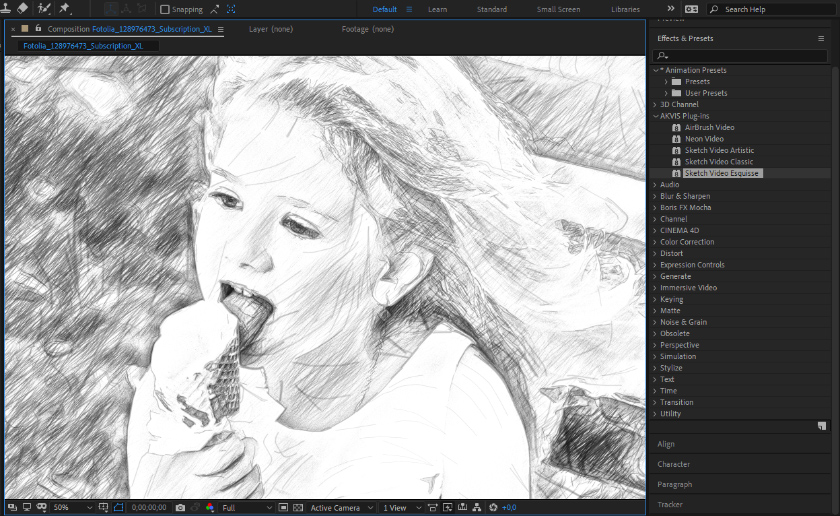 In Version 5.5:
Integrated Presets

The update improves work with presets. You don't need to install them in every video editor like you did before. Now the presets are seamlessly integrated into the plugin and work with all compatible video editing programs.

Also, in the new version:

- New Installation Wizard for Windows;
- Improved support for macOS 11 Big Sur;
- Improved compatibility with the video editors;
- Fixed minor bugs and improved stability.
Download AKVIS Sketch Video 5.5!
Update to The New Version:
The upgrade is FREE for recent buyers who purchased or upgraded AKVIS Sketch Video during the last 12 months.
Check if you are eligible for a free update in the Customer Room or by sending us your question via the form.
If your license is older and is not valid for the new version, get Sketch Video 5.5 for only $14.95.
You can update all your AKVIS programs to the latest versions for $39.95.
License Upgrade:
Level up your Home license to Pro by paying the difference in prices ($30.00) and get the Pro functionality (including all 3 drawing styles with all presets and options, as well as commercial use) plus extra 1 Year of Updates for Free as a bonus.
Changes in previous versions: