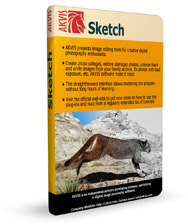 Photo to Sketch Without a Pencil
If you've ever wanted to create a beautiful piece of art but you never felt you had the talent, a photo editing program now gives you the ability to create a beautiful sketch from any digital photo.
Have you ever wanted to feel like an artist? You sometimes see these incredible pencil drawn images created by artists. These sketches are unique and treasured works of art that seem impossible to recreate without great amounts of talent and experience. Now that's no longer the case.
Becoming an Artist
Whether you believe that artistic talent is something you're born with, something you create through lots of practice, or a little bit of both, you do know that creating one of those beautiful photo to sketch drawings definitely requires that artistic talent. What do you do if you lack that talent?
Well, you could settle for something less artistic. Your digital photos can just remain digital photos. That's what most people do. They just leave their special photos in a separate folder on their computer where they don't do much else but sit.
On the other hand, if you have your heart set on turning a photo into a sketch, you could hire someone to create one for you. Of course, the prices for such an option are fairly high. Plus, you would need to find an artist who could do an excellent job and that would require investing some time into researching local artists. Who has time to spend doing that?
You could also use Photoshop or other photo editing programs that can use filters and some technology to create an approximate appearance of converting a photo into a sketch. But if you've ever seen the results, you know they can't compare to what a true artist can create.
What is the best solution to choose? The good news is another option is available.
Creating Sketches From Photos
With AKVIS Sketch, you can finally create the sketch you want even if you don't have much artistic talent. All you need is a computer, the software, and some good taste. With AKVIS Sketch you start with any digital photo on your computer. With a few choices, you can not only recreate the look of a graphite image but you can do it in black and white, in color pencil, even in water color. The options available allow you to create a wide-range of artistic pieces – the only limitation is your digital photo collection.
Not only can you recreate these options but you can also make other changes. You can recreate the look of an image drawn on a brick wall, for example, or you can change the look of the pencil marks. You can alter the colors, as well.
But if you're wondering what you can do with the finished image, that's where your creativity is important. You can print the images on photo quality paper, frame them, and hang them as decorations in your home. You could even give them as presents to your friends. Imagine creating a sketch from a portrait of your special someone and giving it to him or her as a gift. Perhaps you would like to create such a sketch of your children, and use it as a design that can be added to a T-shirt and given as the perfect gift for grandparents. With this photo editing software, there are plenty of great, artistic things you can accomplish.