AKVIS Birthday 2021

June 1, 2021. - Thanks to everyone for participating in the Raffle, Contest, and for the inspiring stories you sent us!
Don't forget to use your 20% and 50% discount codes till June 7.
❀ Congratulations to our Winners! ❀
17 Lucky Winners of The Raffle:
in...o@artworx.de
ma...t@t-online.de
su...d@msn.com
hg...l@ewetel.net
in...o@svs-duesseldorf.com
jc...r@orange.fr
mi...h@hotmail.com
jo...g@k3g.net
te...s@gmx.de
cg...3@gmail.com
ma...g@ewetel.net
ro...1@btinternet.com
ru...n@arcor.de
gi...1@libero.it
di...t@protonmail.com
ch...h@gmail.com
am...e@gmail.com
You can choose any AKVIS program, with a top-level license. We will contact you soon!
Winners of the Creative Contest:
We have many exciting entries! We decided to give an award to each participant of the contest, to choose from: any frame pack by AKVIS or a 50% discount coupon for any AKVIS program.
According to the results of voting within the team, the winners are:
Jens Christinger and Sylvie Proulx
They tied for first place!
Each winner gets 5 frame packs for photos + 50% Off coupon code for AKVIS programs.
Thank you all! We look forward to seeing your new works!
Here are the winners' greeting cards:
Birthday Card by
Jens Christinger
: Birthday Card by
Sylvie Proulx
: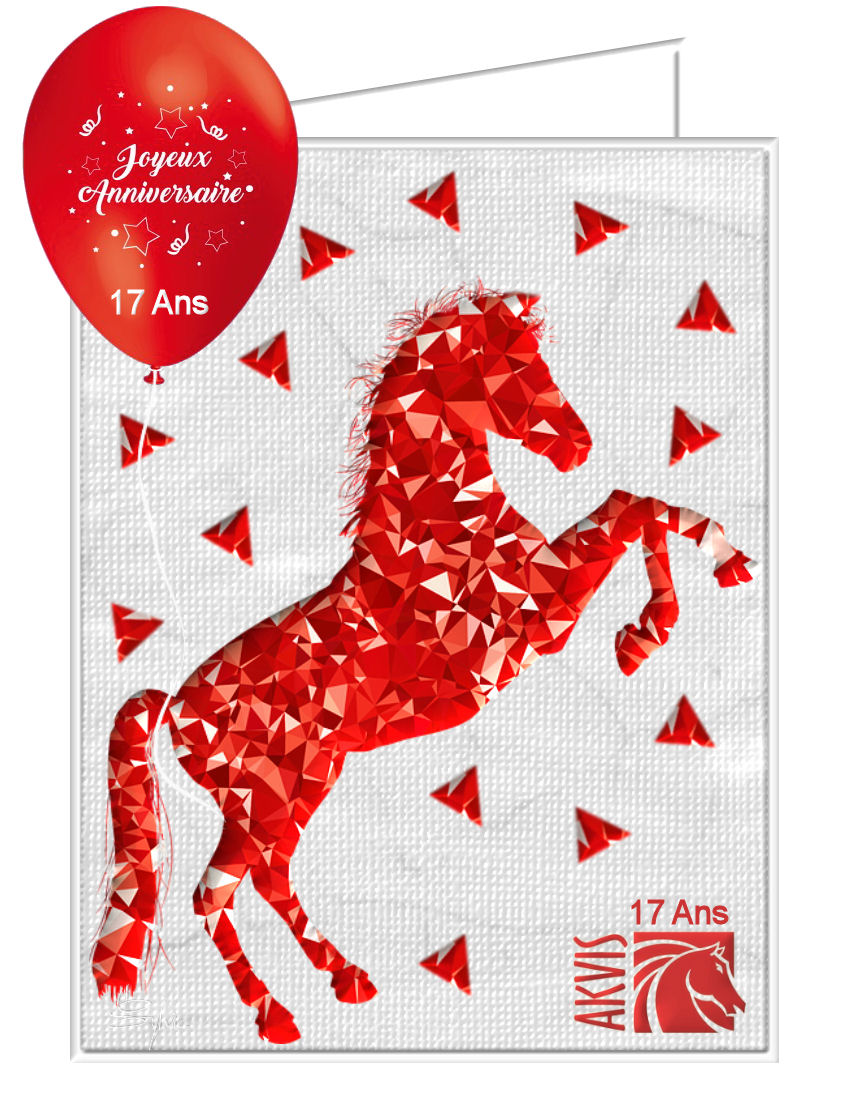 ---
AKVIS Birthday 2021
This year AKVIS turns 17! In May 2004 we launched our website akvis.com and released the first program - AKVIS Retoucher.
Over the years, AKVIS has developed 30 programs that are used and appreciated by thousands of people around the world. To celebrate the company's 17th birthday and to thank our loyal customers, we have prepared some special offers and events: discounts for all programs, a raffle with 17 prizes, and a creative contest.
AKVIS Birthday Raffle: Discounts for Everyone and 17 Prizes
We are launching our traditional Raffle. There are more and more prizes every year in the AKVIS Raffle.
In 2021 we are offering 17 prizes - 17 programs by winners choice. This year we are giving the highest license level: Business/Pro.
Each registered participant gets a 20% coupon code valid for ALL AKVIS products (no exclusions!) till June 7, 2021.
17 winners will be drawn out by chance on June 1, 2021.
Each winner can choose any AKVIS program (Business/Pro) for editing images or videos. See the full list of the AKVIS programs.
Your 20% discount coupon will be sent to you by email within minutes, you can use it right away.
It will be valid till June 7, 2021, for all AKVIS programs, software bundles, updates/upgrades, and frame packs. Take advantage of this offer!
Want More Discounts?
Send Us Your Success Story and Get a 50% Discount
Share your story about how the AKVIS programs have helped you. You can describe your favorite features or products by AKVIS.
Send your inspirational story to info@akvis.com before June 1, 2021 (subject: Story for AKVIS).
Be sure to include a photo of an author. Optionally, you can send examples of your work with the AKVIS programs.
Note that all stories can be published on our opinions page, and all submitted works can be used in the galleries of examples of the programs, with a mention of the author.
Everyone who sends us the story gets a 50% discount for any AKVIS program! Please specify which product you would like to receive a discount on.
Creative Contest: Make a Birthday Card and Win a Prize
Remember, we are developing creative tools for creative people. We love running contests that inspire our clients and ourselves.
Design your greeting card for AKVIS birthday using the AKVIS programs!
You can use any software, tools, devices to make your card. You can even draw it by hand. The main condition is to use at least one AKVIS program.
Send your works at info@akvis.com (with the Creative Contest subject) before June 1, 2021. Write what programs you used.
Prize: A winner will get 5 frame packs to choose from an extensive collection of AKVIS themed frames. Now 69 frame packs are available, each contains from 50 to 110 ready-to-apply high-resolution templates.
Works that we especially like can be rewarded with additional prizes! With AKVIS software everyone can be an artist. Get inspired and be creative!
We are looking forward to your works.
Share the news about the AKVIS birthday events with your friends! You can also post your story and works on Facebook, Instagram, Pinterest, Twitter, etc. (with a hashtag: #akvissoftware), and send us a link to the post.