Read reviews and articles about the leading photo to sketch software.
AKVIS Sketch — Reviews:
AKVIS SKETCH REVIEW 2021
(
fixthephoto.com, Eva Williams, 4/2021
)
Rank

4.5/5
Verdict: If you are fond of performing creative experiments with digital photos, AKVIS Sketch has many tools that can interest you. Here you can jazz up your images with a plethora of unique effects, turn them into B&W sketches, oil paintings, etc.
The program uses special algorithms that evaluate your images in terms of color scheme, proportions, and applied effects, to provide you with advanced image processing instruments that allow achieving realistic results.
AKVIS Sketch
by AKVIS
Turn your photos into beautiful pencil sketches
(
SoftRadar, 9/2019
)
AKVIS Sketch is a powerful application for Windows that allows users to convert their images to a stunning pencil sketch. Photos can easily be changed to look like colorful sketches with no paint, brushes, canvas, or smock required! AKVIS Sketch can be used as a plugin to different photo editing programs, or on its own.
AKVIS Sketch is the software that people have been dreaming of. Without needing to have much artistic ability, this software allows for the transformation of a photo into a beautifully sketched picture. There is a multitude of reasons why this software is useful, from creating gifts and posters to comic books. No matter your artistic niche, AKVIS Sketch covers them all.
AKVIS Sketch
(
Elena Opris, Softpedia, 3/2019
)
AKVIS Sketch is an application which allows you to apply several effects to your favorite image files.
The interface of the program is plain and simple to navigate through.
So, you can make a selection on the picture and apply various effects, such as watercolor, charcoal, coloration, smudging, strokes and edges, as well as choose a preset.
On top of that, you can change the background mode (sketch, sketch and photo, sketch and blur), add text and configure settings (e.g. font style and size, text, outline and glow color, position), and use a canvas (configure texture properties – repetition, reflection, alignment – and parameters - brightness, embossing, distortion). <...>
The simple-to-use program runs on a very high amount of system resources, contains a comprehensive step-by-step guide with snapshots and can be easily used by individuals of all levels, whether they are beginners or experienced. The sketch effects have a very good quality. We strongly recommend AKVIS Sketch to all users.
5 software to convert your digital pictures into sketches in 2019
(
WindowsReport, Vladimir Popescu, 01/2019
)
Have you ever wanted to turn your favorite photo into a piece of art that looks like it was manually sketched ? This type of effect makes the elements of the image pop out more, and has that characteristic sketch look.
AKVIS Sketch give you the power to easily apply a wide range of different effects to your digital photos. You can turn your picture into a black and white sketch, or into an oil painting.
The algorithms used by AKVIS collect data regarding the colours, proportions, and added effects, to offer you some of the best image processing on the market, coming very close to the results a real artist would get.
Come trasformare una foto in un disegno a matita
AKVIS Sketch (Windows/Mac)
(
Salvatore Aranzulla, 2018
)
Non c'è che dire, nessuno disegna come me, sono un vero mago della matita! Non ci credi? Allora dai uno sguardo a questo disegno. È così bello che sembra una foto, vero? Su, ammettilo. <...>
AKVIS Sketch è un altro ottimo software disponibile sia per Windows che per Mac appartenente al genere in questione che può permetterti di realizzare digitalmente splendidi disegni a matita partendo dalle tue foto. Concretamente, quello che fa è imitare la tecnica della grafite e delle matite colorate.
AKVIS Sketch
(
CHIP, 4/2017
)
Erstellen Sie mit Sketch ansehnliche Zeichnungen und Aquarelle aus herkömmlichen Digi-Fotos.
Anders als die mitgelieferten Filter von Bildbearbeitungs-Software kann Sketch sehr schöne Aquarell-, Kohle- und Bleistift-Zeichnungen Ihrer Bilder und Fotos erstellen.
Auf einer übersichtlichen und schlichten Oberfläche können Sie alle nötigen Werte einstellen. Über Schieberegler können Sie Sketch so z.B. mitteilen, wie dick und lang die Linien sein sollen, oder Winkel und Intensität einstellen.
AKVIS Sketch
(
Linda Cameron, Finder, Mid Columbia Macintosh Users Group, 3/2017
)
Have you ever noticed how some movies will show scenes at the beginning or end where the actors morph into sketched characters? I have always thought that was kind of cool and that is why I love using software that can easily turn a photo into a drawing, painting, cartoon or something else. <...>
One thing I like about AKVIS Sketch is that it will show thumbnails of the sketching process almost like when an artist starts a sketch from beginning to end. Sometimes I prefer the beginning sketch or something in between beginning and end. If so, I can select the thumbnail I like and look at it in the Preview window and use that.
AKVIS Sketch is about as easy to use as anything can be. <...> The possibilities are endless and in my opinion — lots of fun.
AKVIS Sketch 19
(
L. Davenport, Silicon Summit, 3/2017
)
If you are a budding graphic novelist (comic-books), you can use AKVIS Sketch to convert your photos into comic-book illustrations. <...> This is especially handy for those who can't draw. They can take photos of an action figure (or in my case I saved a rendered image of my 3D robot) and convert them. This way you can pose them (in real-life or digitally in a 3D program) and slowly create the artwork for your comic-book.
AKVIS Sketch comes with many presets that help you get started modifying your photos. But if you can't find a preset that you like, you can create your own and save it for later use. <...>
I am quite impressed with the sketches that AKVIS Sketch can create. I like that not only can it create sketches, but it also has frames that you can apply to give your sketches a professional finished look.
AKVIS Sketch 19
Spectacular Fun!
(
Michael Shaw, MaUsE DoubleClick, 2/2017
)
AKVIS Sketch 19 is possibly the very best introduction to AKVIS programs. This one is just so entertaining and inviting: every button click makes possible a new rendering of the original image and the range of possibilities is terrifically wide. As the name implies, AKVIS Sketch can turn any image into a sketch. The sketch can be in colour or black and white <...> and in any one of many dozens of styles and treatments.
AKVIS Sketch 17
(
L. Davenport, Silicon Mountain Macintosh User's Group, 06/2015
)
Akvis Sketch accomplishes what it sets out to do- convert photos into works of art. If you are interested, I suggest you download the demo and see if it suits your needs. BTW: I used Final Cut Pro, Adobe Photoshop, and the Sketch plug-in to successfully create a (colored) animation of a person walking down the sidewalk! Now that I know how to do it, it is a breeze to make short animations. I will be making more animated cartoons in the future.
AKVIS Sketch 16
Huge New Update for Sketch
(
Michael Shaw, MaUsE DoubleClick, 12/2014
)
AKVIS has really done it this time: the new release of Sketch 16 in November marks a phenomenal leap forward in "push-button" image editing. As the name implies, Sketch lets you create a wide range of styles of color drawings and sketches from your digital images. Adjusting the settings, it's also possible to add some painting effects like watercolor, pastel, and charcoal to the pictures.
Akvis Artistic Suite Review
(
Bojan Živković, DesignEasy, 11/2013
)
Akvis Sketch
This is my favourite plugin from this bundle. It is so simple to use it and presets are fabulous…
Quality and features are amazing. As already mentioned sketches are so realistic and I can not believe that software is behind them.
AKVIS Sketch 14.0
(
Michael Shaw, MaUsE DoubleClick, 9/2012
)
The program has an interface that invites the user to start out with a picture and then experiment with the styles and presets of the program to explore a wide range of possibilities...
Akvis Sketch now does video
(
Jose Antunes, 04/2011
)
The best program to convert photos into drawings and paintings
now also does animated comics from video!
I've written about Akvis Sketch in March as my favorite photo to drawing conversion program. Well, now for version 12.5, Akvis Sketch does another trick on the standalone version: creates comics from home videos.
AKVIS Sketch is a program for conversion of photos into pencil sketches and watercolor paintings. It's the program... as far as I am aware of and from what I read from other users. The company that makes it is constantly updating the program, and now they've, for version 12.5, fixed some bugs, enhanced the options and... made the batch processing previously only available in the Photoshop plugin available for the standalone version. This opens new possibilities for all those that have opted for that version, one that does make sense for many users...
Akvis Sketch: nova versão trata vídeo
(
Jose Antunes, www.fotodigital-online.com, 04/2011)

A Akvis actualizou o seu software de conversão de fotos em desenhos, Akvis Sketch, para a versão 12.5, que tem com novidade maior a capacidade para tratar vídeo de câmaras digitais, permitindo assim criar desenhos animados (ou quase) com um simples clique.

O programa é já o referencial absoluto em termos de conversão de fotos em desenhos ou aguarelas. Nada se compara, efectivamente, ao Akvis Sketch, que atinge agora a versão 12.5 com a funcionaldiade extra do vídeo, através da capacidade de processamento em lote aplicado a uma pasta...
Akvis Sketch wandelt Videos in Trickfilme um
(fotointern.ch, 04/2011)

Die neueste Version von Akvis Sketch v.12.5 wandelt nicht nur Fotos in Zeichnungen um (siehe Version 9.0), sondern das Programm verfügt neu über eine Stapelverarbeitung und ist dazu geeignet aus Videos Zeichentrickfilme zu erstellen. Das ist neu und ergibt eine verblüffende Wirkung. Das Programm gibt es als Stand-alone oder als Plug-in für Windows und Mac.
Akvis Sketch: make drawings of your photos
(

Jose Antunes, 03/2011

)

In 2009 I was looking for a program to transform pictures in drawings, but nothing worked as I wanted. Then I found Akvis Sketch

Akvis Sketch converts photos into pencil sketches and watercolor paintings. Well, a lot of programs do, and everybody will say that Photoshop does a good job at that. Yes, I know, but nothing beats, at least that I know, this little program. I've had it in my computer for the last two years and I am always amazed at the results it gives me. So, this is not a review of something new, but more a secret I want to share with Pixiq readers.

Before I go on, let me say that I've done my share of comic drawing in my early years, and that at the time I've used photography as the base for some of the scenes I wanted to draw. Now I am doing something similar, but not by hand, I can do it in my computer, and I do not need to handle a pencil to feel like an artist. All I need to create something new from my photos is Akvis Sketch.
Sketch 11, aggiornato il tool per convertire foto in schizzi al tratto, pastello e acquerello
(Mauro Notarianni, Macity, 03/2009)

Nuova versione del software Sketch di Akvis, applicazione che consente di convertire una foto in un'immagine in stile matita, acquerello, carboncino e a pastelli. Tante funzioni e parametri che consentono di perfezionare l'immagine a proprio piacimento. Nuove caratteristiche e supporto ai 64 bit di Photoshop CS5.
This Month's Live Presentation - AKVIS Sketch
(Tom Watson, macchug.org, 04/2010)

I discovered this stand alone application (it also works as a Photoshop CS3 and 4 as well as Elements plugin) while researching a way to help me be able to produce drawings for an upcoming children's book on Castles.

I wanted to be able to take a photograph and make my own drawings. Now since I am far from an artist /illustrator, I depend upon the magic of the applications I knew someone somewhere had to be making. This is where the AKVIS Software company comes in.

When I saw the samples on their web site (akvis.com) I had to see for myself. This is the most completely Stunningly True Sketch application I have ever come across. With a little study and playing with it to get used to the features and many tools it has with it, I found it to be the BEST. I have been looking and trying many different sketch type plugins but there is nothing that is going to surpass this.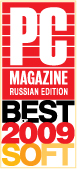 AKVIS Sketch - BEST 2009 SOFT
(PC Magazine Russian Edition, 11/2009)

AKVIS Sketch was awarded the Best of Soft 2009 prize of PC Magazine/RE.
Torne-se num artista do pincel usando as suas fotos
(

Jose Antunes, www.fotodigital-online.com, 11/2009 - Portuguese

)

Agora não é necessário saber manejar um pincel ou lápis para fazer desenhos, obras a carvão, aguarelas ou telas. Com AKVIS Sketch qualquer um transforma as suas fotos – por más que sejam - em obras de arte. A versão 10 do programa acaba de chegar ao mercado, cheia de novidades e ainda mais potente.

A fotografia é um nunca mais acabar de descobertas. Algumas de onde menos se espera. Ao seguir um obscuro link na web acabei por dar de caras com algo que não conhecia. O programa Sketch da AKVIS. Um de um leque que a editora tem para oferecer, mas isso é coisa para ir explorando calmamente. Agora é tempo de ver o que este "esboço" pode fazer por cada um de nós...
AKVIS Sketch Review (v.9.0)
(SDMUG, 10/2009)

Who hasn't thought about turning a memorable photograph into a classic work of art, like a pencil sketch or a painting? Doing so however requires artistic skills usually beyond the abilities of the average computer user. There's the analog method of using pencils, paint and brushes to re-create the photo on canvas or paper. Then there's the analog method gone digital, using a tablet and image editing or painting software to re-create the photo onscreen, but still requiring artistic skill. Finally there is the digital method using the actions and filters of an image editing program to convert a photo to art. Adobe Photoshop has a number of filters to convert photos into something resembling "art", but the results of using those filters are mixed, often with less than desirable results; the image looking less like a sketch and more like a filtered photo. <...>

Overall this is a truly amazing filter. With a bit of tweaking some very remarkable results can be gotten, having friends ask you how long it took you to draw that. Performance has been improved from earlier versions and it even works with Snow Leopard.
Akvis Sketch 9 - Thoughts, vs. 8, examples, etc
(Danny Raphael, Moderator – Photo-art Forum, RetouchPRO.com, 09/2009)

in 2 words: VERY impressive

I have found 9.0 to have the following benefits:
* New edges tab for controlling edge characteristics
* Improved sketch fine detail over 8.x (see attachment for 8 vs. 9 closeup). Subtle, but noticeable in areas of detail, like eyelashes.
* Faster-to-Much faster rendering times (9%-88%, depending on image characteristics [detail, dimensions, resolution])...
AKVIS Sketch 8.5
(Donna Kamper, TCS eJournal, 04/2009)

Akvis Sketch turns your photograph into a pencil Sketch. Somehow that just doesn't cover all this plug-in does. Yes, with Akvis Sketch you can convert any photo into a very nice drawing, with graphite or colored pencils, or a watercolor. But that doesn't exactly tell the entire story. You can do so much more.
Create Drawings from Digital Photos with AKVIS Sketch
(brighthub.com, Michele McDonough, 3/2009)
For most people, it's a lot easier to snap a digital photo than it is to hand-draw a sketch or portrait. Because of that, there are a number of applications on the market that allow almost anyone to summon his or her inner artist and convert a simple photograph into a sketch or painting. AKVIS Sketch is one of these utilities that concentrates more on drawings than paintings, but it does possess the capability of creating images that resemble watercolors as well.
Akvis Sketch 8.6: converte le foto in schizzi al tratto, pastello e acquerello
(Mauro Notarianni, Macity, 03/2009)

Applicazione e plug-in Photoshop per la conversione d'immagini che imitano la tecnica della grafite e dei pastelli colorati...
Akvis Sketch 8.0
(Software Editorial, 10/2008)

Now Sketch v 8 really is something, and to think the ugrade is free for registered users …. Magnificent. I've loved Akvis products for a long time but just when you think they cannot improve on a particular piece of software, bish bash bosh!! they defy the laws of programming and bring out a masterpiece.

I liked Sketch, but you can only have so many sketches but now, with version 8 you can accomplish all sorts of variations. My particular favourite is to mix and match sketch and photo. At a flat warming party at the weekend I took a photo of a group of people in the kitchen. Now this may not sound very interesting but it turned out a real treat with the help of Akvis.
Akvis Sketch 8.0
(Paul Holbrook, Fielding's Review, 10/2008)

YOU ARE AN ARTIST! Even if you can't draw, you can achieve professional quality sketches. Your computer and Sketch 8.0 have all the skill you need. It's just as much fun as drawing but without the effort and it's much faster!

Digital photographers looking for ways to extend their creativity rely on advanced photo-editing software to enhance their work. Those with a perceptive eye realize some of their photos would look better as traditional works of art, such as watercolors, charcoal or pencil sketches on canvas. A drawn version of a photo, particularly a portrait, can enrich it with a beauty impossible to achieve by processing it any other way. But how many of us can do the job ourselves?

We've all wanted to draw at some time or other. Art lessons can be expensive and frustrating but might hone your skills. But if you have no talent and it's results you are more concerned with, rather than the joy of drawing, your only alternative has been to find an artist to do it for you. They usually draw from a photograph since it takes a long time to do a sketch.
You have probably never considered that your computer can do the drawing for you. But it's true. You need only Sketch v8.0 from Akvis software. <...>

Our extensive tests of Sketch 8.0 yielded consistently satisfactory results. Some photos needed more adjustments than others, naturally, but the effects achieved matched what a highly skilled artist could achieve. We also tested Sketch 8.0 against Alien Skin's Pencil sketch feature in that company's $149 Snap Art plugin. The photo on the left is the best results we could achieve with full coverage. The Sketch 8.0 rendering is on the right, achieved with the default setting.
Akvis Sketch 7.0.
Photo-to-Sketch Conversion Software
(Dave Huss, Photoshop User magazine, NAPP, 10/2008)

Sketch is described by its developer as software for converting photos into pencil sketches and watercolor drawings. This is the fifth such product I reviewed in the past few years. All of these "instant artist" programs use impressive-looking samples for which the company made a grand effort to find the best photos to showcase the effects, but when I applied them to different photos the results were usually far less impressive.

My first observation was that Sketch 7 offered only pencil and watercolor (all the others offered at least 8-10 effects). I installed it as a plugin and then applied the filter to a portrait using the default settings. Wow! It really looked like a pencil sketch. I opened another portrait and it too was made to look like a real pencil sketch. I spent most of the evening converting more than 60 photos with subjects as diverse as a fashion model to a pudgy gondolier in Venice, and all the results were impressive. Sketch may do only a few effects but they're kick-butt effects. It also includes masking tools that allow you to isolate the application of artist effects to part of the photo...
Akvis Sketch 7.0
(Software Editorial, 5/2008)

I am a great supporter of Akvis. Akvis understand that in these money conscience times we need to ensure that the program we are buying does exactly what we expect it to do. We want clear and concise documentation before we part with our cash on how easy it is to get the results we see in the marketing material. We don't just want to be told it's easy, because there are all levels of easy especially when buying computer software. We want to see for ourselves how easy it is before going through the saga of downloading a trial and clogging up our computer registry with things that will just need deleting again.

Akvis deals with this area of curiosity perfectly. Just go to their website www.akvis.com and check out their list of innovative photo editing software. There you will be met with not only examples of each program but in-depth tutorials together with screen shots on how to achieve it...
Software Review: AKVIS Sketch v6.0
(Mark Mattson, Computer Users of Erie, 12/2007)

Digital imaging is an amazing field. There are so many possibilities for creative enhancement to photographs, that you could spend a lifetime exploring them, and not really master all of them. <...>

Overall Impression
I've reviewed several of the AKVIS plug-ins over the years, and have had great success with them. They are small and simple apps, making it easy for the user to accomplish what can be complex tasks quickly and hassle-free. Sketch is another example of this.

I have seen some tutorials in Photoshop-oriented magazines on how to achieve a watercolor painting effect. The tutorials make use of masks and layers, many brush styles, and other advanced editing techniques, some of which the average user may not have mastered well enough to use with confidence. But Sketch allows you to achieve much the same effect and feel as using the advanced tools and built-in filets in Photoshop, but in a much simpler interface and manner.

AKVIS Sketch v6 can be a powerful addition to your image editing arsenal. Why not give the trial version a spin, and see if you don't agree.
AKVIS Sketch 5.5
(Door Evi Maquoi, www.computertotaal.nl, 8/2007)
U hebt beslist wel eens potloodtekeningen of waterverfcreaties gezien die zó echt leken alsof het een foto was. Vanaf nu kunt u die ook zélf maken! Met AKVIS Sketch 5.5 maakt u in een handomdraai kunstzinnige werkjes van uw favoriete foto's. U hoeft hiervoor zelfs nóóit een aquarelpenseel vastgehouden te hebben.
Het bedrijf AKVIS heeft een tiental programma's waarmee u foto's in een handomdraai kunt omtoveren tot artistieke werkjes. Met Sketch kunt u elke foto omzetten tot een potlood- of houtskoolschets en waterverfcreatie. Het programma werkt als op zichzelf staande toepassing, maar u kunt de Sketch-plug-in (net zoals de andere AKVIS-tools) ook aan uw fotobewerkingsprogramma toevoegen.
AKVIS Sketch
(
Larry Hrusovsky, NCMUG, North Coast Macintosh Users' Group Newsletter, 02/2007
)
Have you marveled at an artist's skill to take a photograph and turn it into a work of art? A work of art such as a pencil sketch or a watercolor suitable for framing and hanging on the wall. Fret no more: You can do it and the results are remarkable. How, you ask?
AKVIS Sketch is a plugin for Photoshop, Photoshop Elements or Graphic Converter X for Macintosh. The plugin converts ordinary photographs into pencil sketches, watercolors, charcoals or color sketch. Effects slider bars choose the type of conversion and the amount of effect to apply. Other slider bars control the angle, size and length of the stroke. Additionally, users can define midtone intensity, midtone hatching and sharpening to the edges of the object.
BEST Photoshop Drawing Plug-Ins: Akvis vs Alien
(
Fred Showker, Editor/Publisher, DTG Magazine, www.graphic-design.com, 2006
)

Hardly a week goes buy without someone writing in for a quick, easy way of converting digital photos or Photoshop images into art. Most frequently they ask about pencil or pen and ink sketches. We've spent hours writing tutorials and describing the hundreds of processes available in Adobe Photoshop, or Adobe Photoshop Elements in order to accomplish those goals. This year however, two companies took on the challenge to create a plug-in that would accomplish wonderful natural media conversions of photos with a click or two.
BEST IMAGE EDITING SOFTWARE OF 2006
When time came to decide who would sit on the coveted DTG BEST roster for 2006, we came up with a stone-sober draw. We could not choose between Akvis Sketch and Alien Skin Snap Art. Both plug-ins are superb -- both accomplish a host of variations and effects, and both are rich with user-friendly interfaces...
AKVIS Sketch Evaluation And Gallery
(
Danny Raphael, Moderator – Photo-art Forum, RetouchPRO.com, 11/2006
)
EVALUATION OF AKVIS SKETCH 2.0
SKETCH, developed and distributed by Akvis), is a Photoshop compatible plugin that simulates sketches drawn with graphite pencil, charcoal or watercolors. In addition to Photoshop it can be used with Paint Shop Pro, Elements, Corel Painter, etc., or any other program that allows one to install Photoshop plugins.
This gallery displays side by side examples that enable one to compare the output of Akvis SKETCH to effects achieved by other filters, plugins and Photoshop actions with similar goals.
The following comments and observations are based on approximately 10 weeks of nearly daily use of SKETCH. They will be most useful to those who have downloaded and installed this plugin and done a little experimenting. <...>
CONCLUSIONS
SKETCH definitely stands out among its peers in terms of its ability to render a unique and high quality "pencil sketch look" by simply applying the default settings. Results achieved using the charcoal and watercolor settings, however, were thoroughly underwhelming.
Although not inexpensive, relatively slow to render and lacking in the ability to quickly preview an effect, if you like what you see in the examples in this pBase gallery and at the Akvis site, do yourself a favor: Install SKETCH and give it a thorough 10 day workout. It may grow on you like it did on me.
Akvis Sketch 1.1
(
L. Davenport, www.smmug.org, 9/2006
)
Akvis Sketch is a plug-in that will convert your photos into pencil sketches, charcoal, or watercolor drawings.
The Sketch window has a Before and After tab that lets you see if you are getting your desired results before applying it to your photo. Along the right side of the window are Parameter controls that let you further modify your photo. There are two Parameter fields: Effects and Strokes. The Effects field contains: Watercolor, Charcoal, and Coloration....
Akvis Sketch accomplishes what it sets out to do-convert photos into works of art. If you are interested, I suggest you download the demo and see if it suits your needs...
Sketch
(
chip.de, 9/2006
-
German
)
Anders als die mitgelieferten Filter von Bildbearbeitungs-Software kann Sketch sehr schöne Aquarell-, Kohle- und Bleistift-Zeichnungen Ihrer Bilder und Fotos erstellen. Das Plug-in lässt sich wie jeder andere Filter auch direkt im Grafik-Programm starten.
AKVIS Sketch 1.1
(
Simon Baillie, SharewareJunkies.com, 9/2006
)
If you want a plugin for conversion of photos into realistic pencil sketches, watercolor paintings, graphite color pencil and charcoal, then Akvis Sketch is the answer.
A very easy to use plugin which when called presents you with a window with the image ready to be converted to a sketch at the click of a mouse at default settings which in itself is pretty impressive piece of artwork. Where Akvis sets itself above others is the adjustable parameters which are laid out as a bank of sliders for you to fine tune or completely change the way the image looks as a piece of art. Each slider has a clear description of its function when you hover the cursor over it and each adjustment can be viewed as soon as you have made it.
You don't need expertise in image editing and extensive manipulation with layers, masks, brushes and applying filters etc especially as there are some excellent easy to follow tutorials. If you want to know if Akvis Sketch will work with your image editor then visit akvis.com/en/compatibility-software.php to see the comprehensive list.
Akvis offer a 10 day trial for you to see the excellent results you will be able to obtain, it's well worth it believe me.