Step 2.

To get started you'll want to transfer both parts of the image to one canvas:

- First use the command Image -> Canvas Size to double the width of the canvas.

Changing the Width of the Canvas
- Next switch to the other picture and select the image using any of the graphic editor's selection tools (for example, the Polygonal Lasso

tool).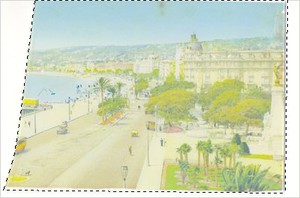 Selecting the Fragment
- Then use the Move

tool to drag the selection onto the larger canvas and connect it with the left side of the image.

Connecting the Fragments
- Finally, merge the layers (Layers -> Flatten Image in the menu) and remove excess areas of the image using the Crop

tool.

Cropped Image