Aggiungere i plugin in Affinity Photo su Windows
È possibile utilizzare plugin compatibili con Photoshop anche con Affinity Photo su Windows e Mac.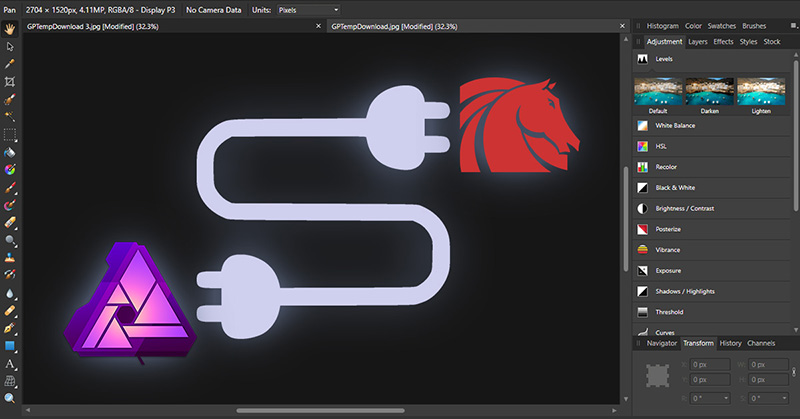 Scopri come installare i plugin AKVIS in questo editor di foto (per Mac fare clic qui):
Metodo 1.
Copiare i file ".8bf" dalla cartella AKVIS (per impostazione predefinita, C:\Programmi\AKVIS\) nella cartella dei plugin di Affinity Photo (per impostazione predefinita, C:\ProgramData\Affinity\Photo\‌1.0\Plugins).
Metodo 2.
Aggiungere plugin all'editor di immagini Affinity Photo direttamente nel programma.
Questo metodo è consigliato, esso consente agli utenti di aggiornare automaticamente i plugin, senza copiare i file ogni volta.
Aprire la finestra delle preferenze di Affinity Photo: Modifica -> Preferenze... (Edit -> Preferences...)

Nelle preferenze fare clic su Plugin Photoshop (Photoshop Plugins).

Nella scheda di Plugin Photoshop fare clic su Aggiungi (Add), scegliere la cartella AKVIS e selezionare la casella di controllo Consenti l'utilizzo di plug-in "Sconosciuti" (Allow "Unknown" plugins to be used).

Fare clic su Chiudi (Close) e riavviare Affinity Photo.
Ora i plugin possono essere utilizzati con Affinity Photo.
Per lanciare i plugin AKVIS in Affinity Photo:
Scegliere Filtri -> Plugin -> AKVIS (Filters -> Plugins -> AKVIS) ed il plugin che si desidera utilizzare.
Nota: Per lanciare il plugin SmartMask assicurarsi che il livello sia sbloccato.