Prowling Tiger
あいにく, このページは英語にだけ使用可能です。
The author of the example is Sanjeev Saha, New Delhi, INDIA.
Though tigers are hunting in the daytime, they are a so-called symbol of the night. The tiger's movements are slow and cautious, its approach strikes fear in any living being. We'll try to create a framed photo of a tiger prowling in the night using AKVIS ArtSuite.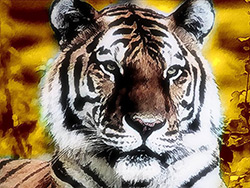 Original image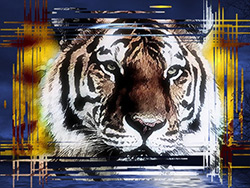 Result
First we will add a photo frame to a picture of a tiger.
Step 1.

Open an image with the tiger in Jasc Paint Shop 7.

Step 2.

Then promote it to a layer by going to layer palette.

Now we can work with the image.

Step 3.

Call AKVIS ArtSuite by going to Effects -> Plugin Filters -> AKVIS -> ArtSuite. Select a Scratches by going to the drop down menu.

Step 4.

Activate the Transparent check-box. Set Frame Width to 100%, Border Width to 0%, Stroke Width to 2%, Stroke Count to 78%, Stroke Length to 41% and Random Speed to 6719.

The result will be shown in the After tab.

Step 5.

Press the button to apply the result and close the plugin window.

See the image in the Paint Shop Pro's workspace with a transparent background.

Step 6.

Then I searched Google for a background image. Open this night landscape image in the photo editor.

Step 7.

Now copy the image with the tiger. From the main menu of the photo editor choose Selections -> Select All. Then choose Edit -> Copy again from the main menu.

Step 8.

Left-mouse click on the image with the background. We'll continue our work with this image.

Step 9.

Paste the tiger image to the night lanscape as a new layer. Choose Edit -> Paste -> As New Layer from the maim menu of the photo editor.

Step 10.

Then merge all layers.

Call from the main menu of the photo editor Layers -> Merge -> Merge All.

The result is shown below.
You can get various photo frames using AKVIS ArtSuite. For example, if you do not activate the Transparent check-box, you can use a color for the background. In this case you won't need to convert the base image to a layer.
Here is the Scratches frame with lilac as Frame Color: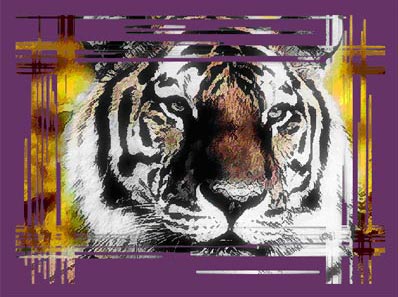 The same thing can be performed with Stroke, Page curl, Square, Ragged, Spray and Artistic. You can create a transparent frame and lay a background image under it; or you can add a color frame using the Color pallete.
The Squares frame: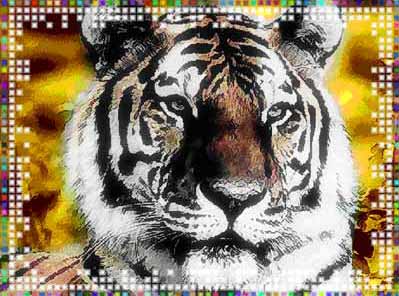 The Spray frame: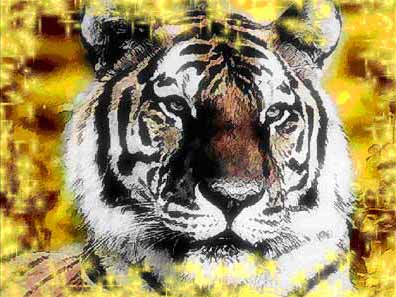 ArtSuite v. 19.6 - 10日間の評価期間