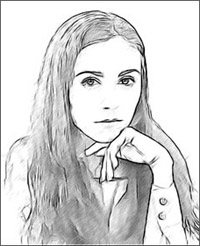 AKVIS Sketch is an award-winning program for conversion of photos into pencil sketches and watercolor paintings. The program has already won the recognition of professionals and delighted home users with its neat results.
With AKVIS Sketch you do not need to handle a pencil to feel like an artist. All you need to create your original work of art is good taste and AKVIS Sketch. Make any photo look like a B&W or color drawing, imitate the technique of graphite or color pencil, charcoal or watercolor painting.
Photo Kiosk Version
We offer you the special Photo Kiosk license for AKVIS Sketch.
Photo Kiosk License is a commercial license for Windows-based photo mini labs and self-service photo kiosks.
There is no trial version! You will get the Download URL after your order is processed.
To evaluate the features, please use the regular version of Sketch.
Photo Kiosk version includes the features of the Classic style and the Canvas tab.
You will be able to delight your customers not only with photo-to-sketch conversion, but also the imitation of a drawing on a canvas, corrugated paper, brick wall or anything else.
It's possible to give a choice of presets to your customers.
You can use AKVIS presets of photo-to-sketch conversion and/or create your own.
The standard interface of the program won't be visible, you can manage the parameters via your own application installed on the machine (using command line & config files).
The only thing that Sketch shows is the window with the progress bar and the program name when processing images (click to preview). You are not allowed to hide/remove it! This progress bar window must be visible to a customer/operator.
Attention: Not for online services. Remote processing is not allowed.
Online use is prohibited without authorized consent.
To order AKVIS Sketch Photo Kiosk License, 5 activations ($ 750.00 USD), please follow this link.
To order AKVIS Sketch Photo Kiosk License, 1 activation ($ 180.00 USD), please follow this link.
If you have questions please contact us at sales@akvis.com.