AKVIS 10th Anniversary: Birthday Raffle & Contest 2014
AKVIS celebrates its 10-year anniversary in May 2014!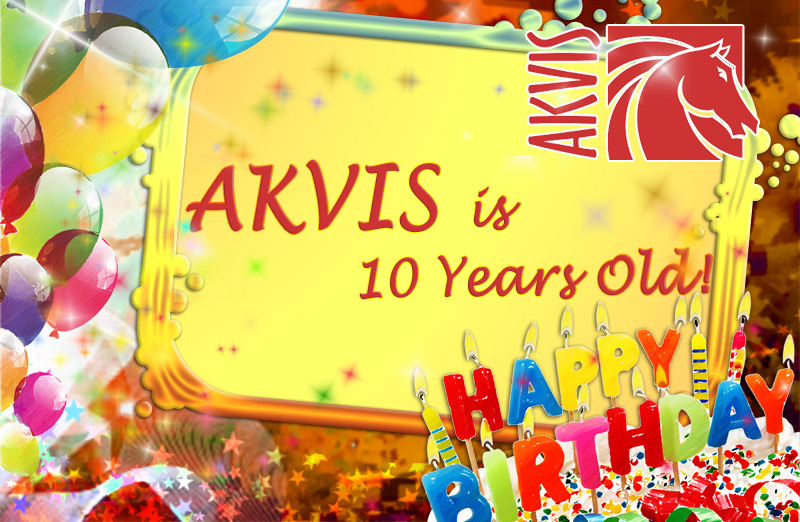 Since the company's launch in 2004, it has released a number of successful products: 20 software programs, standalone applications and Photoshop plugins for Windows and Mac, and 16 frames packs for decorating photos.
Every year AKVIS organizes a Raffle in celebration of the company's birthday.
The Birthday Raffle 2014 registration starts now!
Win a Prize - Any AKVIS Program!
Register by filling in the Raffle Form below.
The names of 10 winners will be drawn out by chance on June 2, 2014.
Prize: AKVIS software on a winner's choice.
The winners will be able to choose one of the AKVIS program in Deluxe version.
20% Discount for Everyone!
Each raffle participant gets a 20% discount for AKVIS software.
The discount coupon will be sent to you by email within minutes. It will be valid till June 30, 2014 for all AKVIS programs and frame packs. (Not for the bundles.) You can use this coupon right away to get a program at the discounted price.
This is a good discount so be sure to take advantage of it!
Enter the Contest and Win AKVIS Alchemy!
In addition to the Raffle, you are welcome to enter the Contest "The Best User Experience".
Share your story of using AKVIS software and win the Alchemy Bundle that includes all 20 AKVIS programs Deluxe.
To take part in the contest, write your story (minimum 2,500 characters) into the corresponding field below or send it to info@akvis.com (marked as Success Story).
AKVIS 2014 Raffle Registration
THE REGISTRATION IS OVER!
---
June 2, 2014
Raffle & Contest Results
AKVIS Birthday Raffle:
Thank you to all who participated! Do not forget to use your discount coupon till June 30.
Congratulations to our Raffle winners!
id369 Kirill m...@mail.ru
id525 Huster Willi w...@t-online.de
id123 M.Kuhn f...@simplesnet.pt
id22 Walter Schneider w...@gmx.net
id134 waldi a...@wp.pl
id348 Judie p...@aol.com
id201 Sam Gilbertie b...@optonline.net
id28 Raimund Pohl r...@optusnet.com.au
id530 CFile y...@aol.com
id299 Bettina Henke t...@web.de
You can choose any AKVIS program!
Contest "The Best User Experience":
We have received plenty of outstanding works. Thank you for taking the time and sending your stories!
We are pleased to announce the winner - John Chismar. Congratulations, John!
It was really hard to pick only one winner.
We have decided to offer some additional prizes to the finalists of the competition:
- Alberto de Donno
- Bartolome Pons Pons
- Richard Gravelle
- Jürgen Doert
- Paul Driesen
- Peter Baumann
Thank you for your success stories!
The best works will be published on our website, in the examples section.