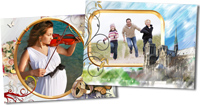 AKVIS ArtSuite is a collection of frames and effects for photos. The software contains many hand painted templates and texture samples that can be used to create a virtually limitless variety of options for generating frames.
With ArtSuite it's not only possible to create frames from samples, but also by using Hand Painted Frames — high quality images with holes of any shape, in which to place photos. They are only available in the standalone program (the plugin cannot use such images in ArtSuite, since it changes the size of images).
Hand Painted Frames look like real photo frames. They were all created by professional artists specifically for ArtSuite. Several of these frames are built in to ArtSuite's Library. They are included with the program for free.
We offer theme packs of ready to use frames. These frames are available for a price and are intended for professionals, as well as those who are interested in quality design photo frames.
Most of these frames allow only one photo to be added; from such a varied selection there is always a suitable choice. In addition, each pack contains frames in which it is possible to "insert" two photos, without needing to crop them or adjust their size.
With ArtSuite you can easily frame your photographs! Just place a photo into a frame, and press the Run button; the edges will be smoothed and hidden to fit the frame, and you will get a stylish and impressive framed picture.
You can order all frame packs in one step here! »»» (You'll need ArtSuite to use them).
We offer these packs of designer photo frames:
You can order all frame packs in one step here!
Remember! These frames can only be used with AKVIS ArtSuite, and only in the standalone program, not the plugin!
Each frame pack is a zip file. Copy it to a folder selected in the preferences of ArtSuite. Do not open the file yourself! It will only work in ArtSuite (Standalone).
After payment you will receive a link to the frame pack (as a *.zip file) and a license number for registering the pack.
Only after registration will the frames be available to use. See the instructions.