AKVIS Watercolor 7.0
| Рисунок акварельными красками
Здесь представлены некоторые статьи и обзоры, посвященные программе AKVIS Watercolor. Сначала мы приводим статьи на русском языке от российских СМИ, затем от иностранных изданий.
AKVIS Watercolor — Обзоры:
Akvis Watercolor: создание картин в технике акварели
(
Техническая среда, technical-expert.ru, 16.08.2019
)
Чтобы научиться акварельной живописи, необходимо не только обладать художественным талантом и глубокими познаниями в области изобразительного искусства, но и уметь отражать мысли, впечатления, переживания и представления о мире посредством картин. Не каждый обладает таким даром. Понимая это, специализирующаяся на разработке программ для обработки изображений и видео компания «Аквис» выпустила приложение Watercolor, позволяющее с лёгкостью превращать любые фотографии в акварельные рисунки.
Akvis Watercolor позволяет имитировать стиль великих мастеров по щелчку мыши. Требуется лишь настроить параметры по своему вкусу и запустить процесс обработки. Самая обыкновенная фотография превратится в настоящее произведение искусства! Благодаря многообразию настроек можно создавать картины в самых разных жанрах: от захватывающих морских пейзажей до нежных натюрмортов и изысканных портретов.
How to Convert Photo to Watercolor Painting - 5 Best Ways
(
TopTen AI, 8/2021
)
Though there are many equally good options for most image editing tasks, such as background removal, image enhancement, increasing resolution, etc. it is not the same if you want to convert photo to watercolor painting. The reason being that the application's version of the watercolor painting has to match the expectations of the user and the photo to watercolor algorithm itself has to be above average. Many usually take the Photoshop route but in this article, we will show you how photo to watercolor photoshop route is not the only way. We will provide a list of five tools that let you convert photo to watercolor online free of cost.
4. AKVIS
This software application and plugin is a comprehensive photo to watercolor tool that provides a list of options regarding the type of watercolor you want to apply to images.
AKVIS Watercolor v.2.0
(
Michael Kleper, The Kleper Report in Digital Publishing, MMXVII, No. 263 v.20.3
)
AKVIS Watercolor v.2.0, available both as a standalone application and a Photoshop-compatible plug-in, enables the user to experiment with a variety of watercolor effects, both pre-defined and original.
There is no easier method that we have seen to create beautiful watercolor masterpieces without any artistic training.
AKVIS Watercolor v.1.0
(
Michael Kleper, The Kleper Report in Digital Publishing, MMXVII, No. 262 v.21.1
)
AKVIS Watercolor V.1.0, available both a plug-in and standalone, produces incredibly vivid and appealing image transformations of watercolor painting techniques. Even using the default settings, the software elegantly converts a standard digital image into a sophisticated watercolor rendering, with appropriate levels of detail and color.
AKVIS Watercolor - BEST OF THE YEAR 2016
(PC Magazine Russian Edition)
We are happy to announce that AKVIS Watercolor has got Best of Soft 2016 award issued by PC Magazine Russian Edition.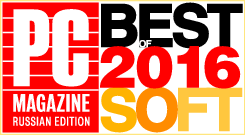 Instant watercolor: Give your photos a painted appearance with AKVIS Watercolor 1.0
(
Jeremy Gray, Imaging Resource, December 6, 2016
)
The software, available as a standalone application or Photoshop plug-in, is designed to be easy to use. You simply select your desired settings and then run the processing. You can select from a range of painting genres and styles, including styles well-suited for landscapes or portraits. You can select different presets for the painting style and paper color, although you can also make in-depth selections to sliders such as stroke thickness, dispersion, stroke density and much more.
NEW from AKVIS: Watercolor 1.0
(
Michael Shaw, MaUsE DoubleClick, 12/2016
)
There are basically two ways to use the program. One way is to launch the program and import an image (Open from the File menu). The image will open in the application window with default values already applied. <...> The default values are just starting points. Using the nine sliders provided the user can then fine tune the image by altering the colour behind the image, by using the Decoration tab to change the texture of the background medium, by adding text to the image, or by making global adjustments to the image watercolor process. <...> The type of brush strokes, colour saturation, lighting and edges can be heavily modified to give different effects in order to achieve desired results. The Decoration tab has a library of over 30 possible canvas and paper backgrounds that can be customized and used to create the illusion that the original image was painted by hand on textured cloth.
The other way to use the Watercolor program is to start with one of the 22 Presets that AKVIS has built into Watercolor 1.0. With the Presets tab selected the user can slide the cursor over each possible image treatment to get a quick idea of how the image would look with that specific Preset used as the starting point.