&nbsp
Brand New Artistic Software - AKVIS OilPaint v.1.0. Oil Painting Effect!
December 10, 2013 — AKVIS announces the launch of its new program — AKVIS OilPaint v.1.0 for Windows and Mac OS X, available as a standalone application and as a Photoshop plugin. The software offers an incredible algorithm for creating oil paintings out of photographs.
New software is now available for download!
AKVIS is proud to announce the release of AKVIS OilPaint v.1.0.
AKVIS OilPaint creates oil paintings from photographs. The characteristic feature of the program is a unique algorithm of the artistic application of brush strokes that authentically reproduces the technique of the real brush. With this cutting-edge software you can become a painter and turn your photos into paintings in just a few minutes!
The mysterious production of a painting happens right before your eyes. The program creates a work of art that looks like a handmade oil painting.
Also, it lets you personalize your picture by adding a signature of an artist, a title, a greeting, or any other text. To make the painting even more realistic you can adjust the canvas.
The software offers a number of ready to use presets that helps to start working. You can save your favorite photo-to-painting settings as a preset and use them further. The program lets sharing your most liked presets as well as impressive results with other fans of the oil painting technique. The Batch Processing feature helps to automatically process a series of images, in order to create a number of illustrations at the same style or to process all frames of video.
For a free trial, AKVIS offers 10 days of fully functional use.
Download AKVIS OilPaint v.1.0 and use it during the trial period free of charge.
The software runs on Windows XP/Vista/Win7/Win 8 and on Mac OS X 10.4-10.9, both 32 bit and 64 bit. The product is available as a standalone program and as a plugin filter for Adobe Photoshop, Corel Paint Shop Pro, and other image editors.
The functionality of the program depends on the license type. During the trial period you can try all options and choose the license you like. Note that some tools are only available for Home Deluxe and Business licenses. Consult the comparison table for detailed information.
The brand new program sells for 49.00 USD for Home version (either Plugin or Standalone), for 69.00 USD for Home Deluxe (Plugin and Standalone, all features included), and for 89.00 USD for Business (Plugin and Standalone, all features included, for commercial use).
AKVIS (akvis.com) specializes in development of image processing software and scientific research. The company was founded in 2004 by IT professionals having considerable experience in programming and software development. Since then the company has released a number of successful programs.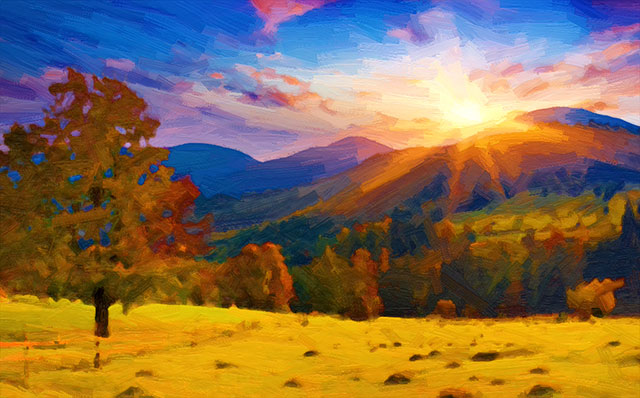 About the Program: akvis.com/en/oilpaint/index.php
What's New: akvis.com/en/oilpaint/whats-new.php
Screenshot: akvis.com/en/oilpaint/screenshots.php
Download: akvis.com/en/oilpaint/download.php
Tutorial: akvis.com/en/oilpaint-tutorial/index.php
Graphics: akvis.com/en/company/graphics.php
________________________