&nbsp
AKVIS ArtWork 6.0. Color Your World In Pastels!
July 27, 2011 — AKVIS announces the release of ArtWork version 6.0. AKVIS ArtWork transforms photos into paintings using various techniques. An ordinary photo can be turned into a work of art. ArtWork is available in plug-in and standalone versions for Windows and Mac.
Version 6.0 introduces the Pastel style. Photos can now be converted into an image with soft, velvety strokes similar to those created by pastel crayons.
Would you like to do something special with your photos? Would you like to express artistic talent without the years of time it takes to become a master Try AKVIS ArtWork and transform even your ordinary photos into works of art.
AKVIS ArtWork is truly the perfect virtual artist which can create images in various painting styles. With ArtWork you can transform a photo into an oil painting, create an image in the style of comics, make a pen and ink drawing, a watercolor painting, or even a linocut. You can create a piece of art out of any digital photo: an oil portrait of your friend, a landscape watercolor painting, a funny poster with your dog or even an impressive linocut print to decorate your bedroom. The transformation of a digital photo into a painting happens before your very eyes, so you can follow the birth of a work of art in real time!
Version 6.0 of ArtWork introduces the Pastel style.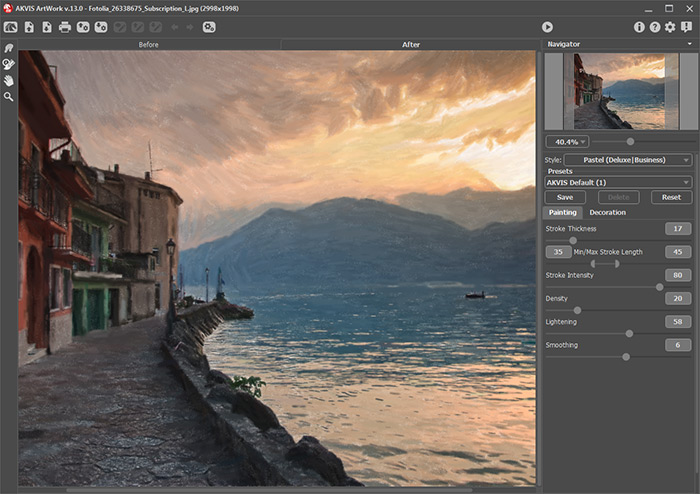 This style is only available under the Home Deluxe and Business licenses. The Pastel style bridges the gap between drawing and painting. It allows you to convert a photo into an image in the style of a pastel, formed by soft, velvety strokes with soft edges reminiscent of pastel pencils or crayons.
The Pastel style includes nine ready-to-use presets which will help you to quickly create pastel drawings in a variety of styles: from sketches made with short strokes (as if with a thin pastel pencil) to drawings made with the soft delicate strokes of crayons. The presets can be applied "as is" or be modified. You can also use the Stroke Direction tool to add your own creative touch by changing the direction of the strokes and the Smudge tool to improve your result by manually refining irregularities after processing.
Also new to Version 6.0 is the addition of batch processing mode for the standalone version. This was previously only available for the plugin version via a Photoshop action. Batch processing is very useful when working with a large number of photos. Try it to create cartoon animations from your home videos.
In Version 6.0, support for RAW files has been added, as well as an OS File dialog for loading and saving files. Compatibility with Mac OS X Lion has also been improved.
Many photo editing enthusiasts have already expressed themselves using ArtWork' s features. Take a look at these Examples.
AKVIS ArtWork is available as a stand-alone application, as well as a plug-in to a photo editor.
AKVIS ArtWork runs on Windows 7/Vista/XP and on Mac OS X 10.4-10.7, both 32 and 64 bit.
Download AKVIS ArtWork v.6.0 for Macintosh and Windows here.
Users who own previous versions of ArtWork can upgrade to Version 6.0 for free.
AKVIS ArtWork sells for $72 USD for Home version (either Plugin or Standalone, 5 styles), $129 USD for Home Deluxe (Plugin and Standalone, 6 styles, including new Pastel), $189 USD for Business (Plugin and Standalone, 6 styles, including new Pastel, for commercial use).
AKVIS ArtWork is available in the AKVIS Alchemy Bundle which includes the full line of AKVIS programs at a discounted price.
The software is also part of the AKVIS Artistic Bundle (Sketch, ArtWork, and ArtSuite), which sells for $149 for the plug-in version or $169 for the standalone version. This is a savings of $44 when compared to the price of these three programs purchased separately.
Visit the official website to see prices for alternate versions of the bundles and other special offers.
AKVIS specializes in development of image processing software and scientific research. The company was founded in 2004 by IT professionals having considerable experience in programming and software development. Since then the company has released 17 successful programs.
About the Program: akvis.com/en/artwork/index.php
What's New: akvis.com/en/artwork/whats-new.php
Screenshot: akvis.com/en/artwork/screenshots-painting-effects.php
Download: akvis.com/en/artwork/download-painting-effects.php
Tutorial: akvis.com/en/artwork-tutorial/index.php
Graphics: akvis.com/en/company/graphics.php
________________________