&nbsp
Spring Frames for Your Photos - 50 New Exciting Designs for AKVIS ArtSuite!
April 25, 2013 — AKVIS announces a new frame pack for AKVIS ArtSuite - the "Spring Pack" with 50 hand painted designs. These gorgeous frames make you feel nature's great awakening, warm rays of the sun, exciting scent of the spring, and love in the air, and hear songs of birds. Decorate your pictures with beautiful photo frames!
We are glad to announce a new frame pack for AKVIS ArtSuite - Spring Pack!
AKVIS ArtSuite is an impressive collection of versatile frames and effects for photographs. The software lets you frame your photos, make personalized greeting cards and posters, decorate your family album. The program contains many templates and texture samples for any goal - from classic wooden frames to festive decorations, fabric, brick, and even animal world patterns. You can create a frame with ragged edges, a page curl, etc. It can be a wooden frame with figured carving or a frame with an ornament. Thanks to the large number of effects and a rich pattern library, the software can generate an endless variety of effect versions.
It's possible to extend the features of the program and enrich the collection of frames by adding extra themed frame packs of Hand Painted Frames created by professional artists specifically for use in ArtSuite.

The brand new Spring Pack includes 50 hand painted frames of excellent quality.
Greeting the Spring season, refreshing and incentive! It means beginning, rebirth and rejuvenation. At this glorious time full of blossoms we celebrate wonderful festivals such as Carnival and Easter. Our frames make you feel nature's great awakening, warm rays of the sun, exciting scent of the spring, and love in the air, and hear songs of birds.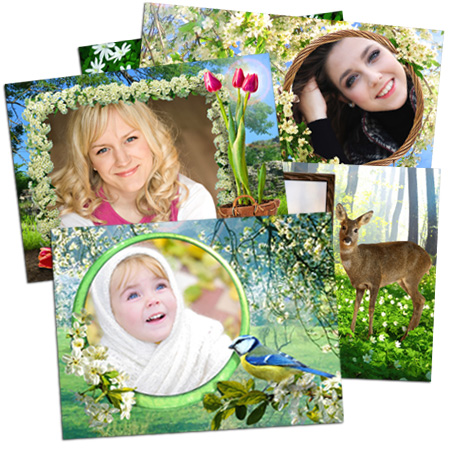 Now 8 themed packs are available: Baby Pack, Wedding Pack, Travel Pack, St.Valentine Pack, Sports Pack, Christmas Pack, Winter Pack, and the new Spring Pack! These frames are offered for a pretty modest price and are intended for those who are interested in beautifully designed frames.
Also, a Free Set of Frames, a collection of enchanting designs for any occasion, is available for download without charge and registration.
The additional frame packs can only be used in the Standalone version of AKVIS ArtSuite, not in the Plugin. To add the frame packs (zip files) in ArtSuite just copy them into a folder selected in the program's preferences.
AKVIS ArtSuite runs on Windows XP/Vista/Win7/Win 8 and on Mac OS X 10.4-10.8, both 32 bit and 64 bit.
For a free trial, AKVIS offers 10 days of fully functional use of AKVIS ArtSuite. Download the software here.
You can use the Free Pack even during the trial period of ArtSuite. As for the other packages, they will only be available after payment.
The new Spring Pack sells for $12.
AKVIS ArtSuite (Standalone) sells for $ 69 USD, downloadable from akvis.com.
Visit the official website to see prices for alternate versions of the software, frame packs, and special offers.
About Company
AKVIS specializes in development of image processing software and scientific research. The company was founded in 2004 by IT professionals having considerable experience in programming and software development. Since then the company has released a number of successful programs.
About the Program: akvis.com/en/artsuite/index.php
What's New: akvis.com/en/artsuite/whats-new.php
Screenshot: akvis.com/en/artsuite/screenshots-artistic-effects.php
Download: akvis.com/en/artsuite/download-artistic-effects.php
Tutorial: akvis.com/en/artsuite-tutorial/index.php
Graphics: akvis.com/en/company/graphics.php
________________________