&nbsp
What is Your Zodiac Animal? Chinese Horoscope Frames for Your Photos!
January 29, 2014 — AKVIS announces a new additional frame pack for its ArtSuite software, for Windows and Mac OS X. The brand new Chinese Horoscope pack includes 60 top quality frames, with 12 zodiac animals!
AKVIS is glad to release a new set of frames for AKVIS ArtSuite — Chinese Horoscope, a stunning collection of high resolution picture frames!
AKVIS ArtSuite software lets users easily decorate their photos with artistic effects and frames. Extra themed frame packs can be installed to the ArtSuite program to increase its functionality and enrich the built-in Library.
The new product Chinese Horoscope joins the family of the AKVIS frame series!
Now 13 themed packs are available for use in ArtSuite: Saint Valentine Pack, Wedding Pack, Baby Pack, Travel Pack, Sports Pack, Christmas Pack, Winter Pack, Spring Pack, Summer Pack, Autumn Pack, Fantasy Pack, Halloween Pack, and new Chinese Horoscope. Also, the company offers a free set of frames for any occasion, which can be used without charge and registration.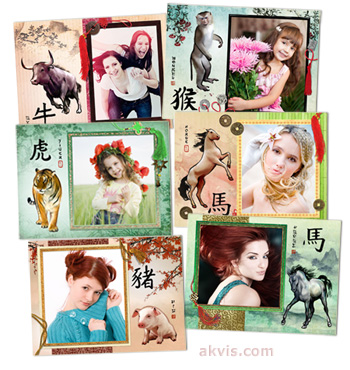 Chinese Horoscope Frames:
The new pack includes 60 beautifully designed frames of excellent quality for only $15!
In Oriental Horoscope, every year within the twelve-year cycle is symbolized by a certain animal. The Chinese Zodiac signs are: Rat, Ox, Tiger, Rabbit, Dragon, Snake, Horse, Goat, Monkey, Rooster, Dog, Pig.
The new frame pack offers different images for all 12 Chinese Zodiac Animals. Use our stylish frames to decorate your pictures, prepare a poster or a greeting card. Feel the ancient wisdom and beauty of the East!
See the preview thumbnails of the Horoscope frames.
Note that the frame packs can only be used in the AKVIS ArtSuite Standalone program. To add a frame pack to ArtSuite, just copy it into a folder selected in the program's preferences.
AKVIS ArtSuite and all its frame packs work on Windows XP/Vista/Win7/Win 8 and on Mac OS X 10.4-10.9. The program is available for the 10-day trial period free of charge.
AKVIS ArtSuite Standalone sells for $69, the new frame pack for $15.
AKVIS (akvis.com) specializes in development of image processing software and scientific research. The company was founded in 2004 by IT professionals having considerable experience in programming and software development. Since then the company has released a number of successful programs.
About the Program: akvis.com/en/artsuite/index.php
What's New: akvis.com/en/artsuite/whats-new.php
Screenshot: akvis.com/en/artsuite/screenshots-artistic-effects.php
Download: akvis.com/en/artsuite/download-artistic-effects.php
Tutorial: akvis.com/en/artsuite-tutorial/index.php
Graphics: akvis.com/en/company/graphics.php
________________________