&nbsp
New Halloween Frames for Your Photos - 50 Fabulous Designs for AKVIS ArtSuite!
October 24, 2013 — AKVIS announces a new frame pack for AKVIS ArtSuite software for Windows and Mac OS X. The program allows users easily decorate their photos with frames and effects. Extra frame packs can be installed to the program to increase its functionality. The new Halloween Pack includes 50 hand painted frames.
AKVIS ArtSuite is an impressive collection of versatile effects for decorating photos, for Windows and Mac OS X. With ArtSuite you can easily frame your photographs!
The software is available as a standalone application and plugin for image editors. In the standalone version, it's possible to extend the features and enrich the collection of frames by adding extra themed frame packs of Hand Painted Frames created by professional artists specifically for use in this program.
A new set of frames is now available for AKVIS ArtSuite!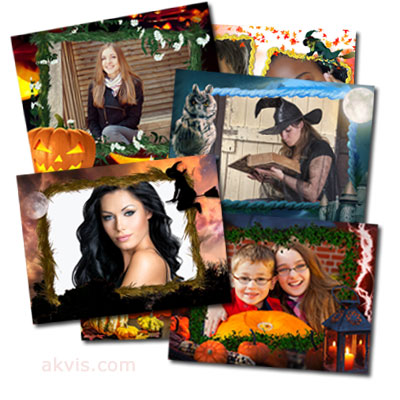 The Halloween Pack includes 50 hand painted frames of excellent quality for only $15.
Halloween is one of the most mysterious festivals in the world. It is celebrated on October 31, in the eve of All Saints' Day, when the evil spirits are released for a night. It is time for decorating your home with scary things like grave stones, skulls, bones, and spiders; it is time when kids are walking in monster costumes and asking "Trick or Treat?", time of glowing pumpkin heads, caramel apples and horror parties.
Fall into the world of ancient legends and horror stories with our Halloween frames!
See the thumbnails of the new exciting Halloween frames:
https://akvis.com/en/artsuite/halloween-pack.php
Now 12 themed packs are available for use in ArtSuite: Baby Pack, Wedding Pack, Travel Pack, St.Valentine Pack, Sports Pack, Christmas Pack, Winter Pack, Spring Pack, Summer Pack, Autumn Pack, Fantasy Pack, and the new Halloween Pack. They are intended for those who are interested in beautifully designed frames.
Also, the Free Pack, a collection of lovely designs for any occasion, is available for download without charge and registration.
These additional frame packs can only be used in AKVIS ArtSuite standalone program. To add the frame packs in ArtSuite just copy them into a folder selected in the program's preferences.
AKVIS ArtSuite runs on Windows XP/Vista/Win7/Win 8 and on Mac OS X 10.4-10.8, both 32 bit and 64 bit.
Download AKVIS ArtSuite and try the software during the evaluation period. The Free Pack can be used even during the trial period of ArtSuite. As for the other packages, they will only be available after payment.
AKVIS ArtSuite (Standalone) sells for $69, the price of the new Halloween Pack is $15.
AKVIS (akvis.com) specializes in development of image processing software and scientific research. The company was founded in 2004 by IT professionals having considerable experience in programming and software development. Since then the company has released a number of successful programs.
About the Program: akvis.com/en/artsuite/index.php
What's New: akvis.com/en/artsuite/whats-new.php
Screenshot: akvis.com/en/artsuite/screenshots-artistic-effects.php
Download: akvis.com/en/artsuite/download-artistic-effects.php
Tutorial: akvis.com/en/artsuite-tutorial/index.php
Graphics: akvis.com/en/company/graphics.php
________________________