&nbsp
New Autumn Frame Pack for AKVIS ArtSuite: 50 Frames for Decorating Your Photos!
September 18, 2013 — AKVIS announces a new frame pack for AKVIS ArtSuite software for Windows and Mac OS X. The program allows users easily decorate their photos with frames and effects. Extra frame packs can be installed to the program to increase its functionality. The new Autumn Pack includes 50 hand painted colorful frames. With the release of the new product the 'four seasons' collection for ArtSuite becomes complete!
AKVIS ArtSuite, available as a standalone program and plugin for image editors, for Windows and Macintosh, helps to decorate pictures with frames and effects. The program contains many templates and texture samples: from classic wooden frames to festive decorations. Thanks to the large number of effects and a rich pattern library, the software can generate an endless variety of effect versions. Using ArtSuite you can easily frame your photographs!
In the standalone version of ArtSuite, it's possible to extend the features of the program and enrich the collection of frames by adding extra themed frame packs of Hand Painted Frames created by professional artists specifically for use in ArtSuite.
The brand new Autumn Pack includes 50 hand painted frames of excellent quality for only $12.
Autumn is a really beautiful time, gorgeous and a bit melancholic. Leaves turn yellow and red, purple and brown, come falling down creating a wonderful natural carpet. It is the season of the harvest and Thanksgiving, the time to gather nature's bounty.
With these bright awesome frames you can enjoy the beauty of Autumn over the year!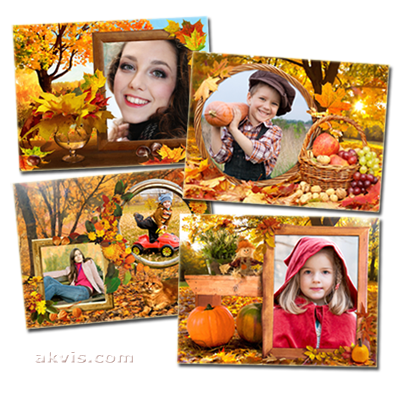 With the release of the new product the "four seasons" collection for ArtSuite becomes complete! Besides the Autumn Pack you can buy Winter, Summer, and Spring frame packs, as well as the other themed packages intended for those who are interested in beautifully designed frames.
Now 11 themed packs are available for use in ArtSuite: Baby Pack, Wedding Pack, Travel Pack, Sports Pack, Fantasy Pack, St.Valentine Pack, Christmas Pack, Winter Pack, Spring Pack, Summer Pack, and the new Autumn Pack; each is offered for a pretty modest price. Moreover, the Free Pack, a collection of lovely designs for any occasion, is available for download without charge and registration.
These additional frame packs can only be used in AKVIS ArtSuite standalone program. To add the frame packs in ArtSuite just copy them into a folder selected in the program's preferences.
AKVIS ArtSuite is an impressive collection of versatile effects for decorating photos. The software runs on Windows XP/Vista/Win7/Win 8 and on Mac OS X 10.4-10.8, both 32 bit and 64 bit.
Download AKVIS ArtSuite and try the software during the evaluation period. The Free Pack can be used even during the trial period of ArtSuite. As for the other packages, they will only be available after payment.
AKVIS ArtSuite (Standalone) sells for $69, the price of the new Autumn Pack is $12.
AKVIS (akvis.com) specializes in development of image processing software and scientific research. The company was founded in 2004 by IT professionals having considerable experience in programming and software development. Since then the company has released a number of successful programs.
About the Program: akvis.com/en/artsuite/index.php
What's New: akvis.com/en/artsuite/whats-new.php
Screenshot: akvis.com/en/artsuite/screenshots-artistic-effects.php
Download: akvis.com/en/artsuite/download-artistic-effects.php
Tutorial: akvis.com/en/artsuite-tutorial/index.php
Graphics: akvis.com/en/company/graphics.php
________________________