&nbsp
Update for AKVIS Photo Correction Bundle: Enhancer v.14.0, Noise Buster v.9.0, Refocus v.4.0
October 15, 2013 — AKVIS is glad to announce the update of their three programs: Enhancer v.14.0, Noise Buster v.9.0, Refocus v.4.0. The new versions offer the sharing feature, new compatibilities for the plugins, support for more RAW formats, and other improvements.
Three AKVIS photo correction programs have been updated!
We are glad to release AKVIS Enhancer v.14.0, AKVIS Noise Buster v.9.0, and AKVIS Refocus v.4.0.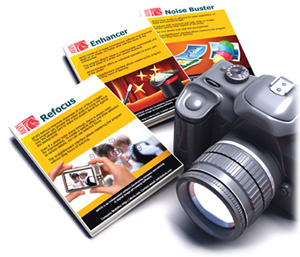 AKVIS Enhancer improves detail in a picture, fixes a dark photo, adds contrast and brightness, adjusts tones. The software detects detail in underexposed, overexposed and mid tone areas of a photo with uneven exposure. It offers an individual approach to every part of the image!
AKVIS Noise Buster is noise suppression software. The program reduces both luminance and color noise in digital images without blurring the edges of objects. Now your photos look neat and accomplished!
AKVIS Refocus improves sharpness of out of focus images. The program can process the entire photo or bring into focus only the selected part to make the subject stand out against the background. It's also possible to add bokeh and lens blur effects to your photos.
Make your photos better with AKVIS software!
All of these products are available in two variants: as plug-ins and as standalone applications, in versions for Windows and Mac OS X. They can be purchased as separate products as well as in the Photo Correction bundle, at the discounted price (40% Off).
In the New Versions:
New Share feature has been added. Now you can quickly post pictures from the programs to the social services: Facebook, Twitter, Flickr, Tumblr, Google+.
RAW processing has been improved. The list of supported digital cameras has been extended with new cameras from various manufacturers (FUJIFILM, SONY, NIKON, and many others).
The plug-ins are now fully compatible with Adobe Photoshop CC, Adobe Photoshop Elements 12, and Corel PaintShop Pro X6.
The installation process for Windows has been improved. Now two setup files are available: for 32-bit and for 64-bit Windows operating system.
Also, a batch processing error has been fixed in the Noise Buster plugin, as well as other minor bugs and interface glitches in all three programs.
Registered users of any versions of Noise Buster, Refocus, and the latest versions of Enhancer (v.10-13.5) are eligible to upgrade their programs for free. Those who have an older version (v.1-9) of Enhancer will need to pay for an upgrade to the current v.14.
All programs run on Windows XP/Vista/Win7/Win 8 and on Mac OS X 10.4-10.8, both 32 bit and 64 bit.
For a free trial, AKVIS offers 10 days of fully functional use. For more information visit akvis.com.
AKVIS (akvis.com) is a team of creative IT professionals developing the most comprehensive and user-friendly image processing and photo restoration tools and solutions.
The company was founded in 2004 by IT professionals having considerable experience in programming and software development. Since then the company has released a number of successful programs.
About the programs:
Download:
Tutorial: https://akvis.com/en/tutorials-photo-editing-software.php
Graphics: https://akvis.com/en/company/graphics.php
________________________