Fantastic cocktail
Désolé, à présent cette information n'est disponible qu'en anglais.
La version française sera bientôt affichée.
The author of this example is Graeme King.
This example was made in Corel Paint Shop Pro XI, but you can use any photo editor compatible with AKVIS plugins.
Graeme King creates his wonderful pictures using only AKVIS LightShop plugin.
Here is one of this picture: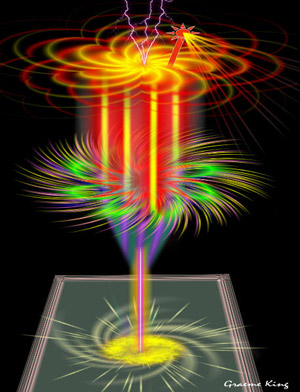 Click to open in the new window.
&nbsp
Let's create such a wonderful picture!
Step 1.

Open your photo editor and make a new document.

Create a new layer. We need to color the background image into black to make our image visible.

Step 2.

Let's make a base for our glass.

Firstly create a new layer and call AKVIS LightShop. Choose Sample 26 and press the button .

Press the button to apply the result and close the plugin window.

Step 3.

Call AKVIS LightShop again and choose another preset (Sample 12) Change the setting as you like and press the button .

Apply the result by pressing the button .

Step 4.

Change the propotions and position of the image to create a base.

Step 5.

Now we have to make a stem. Again call AKVIS LighShop and choose Sample 45. Change the settings and press the button .

Change the settings and apply the result by pressing the button .

Step 6.

We need to make a tray and a glass.

Step 7.

Now we have to decorate our glass

and a glass body.

Step 8.

Now add some fruits and straw.

and our cocktail is ready:
LightShop v. 7.1 - 10 jours d'essai